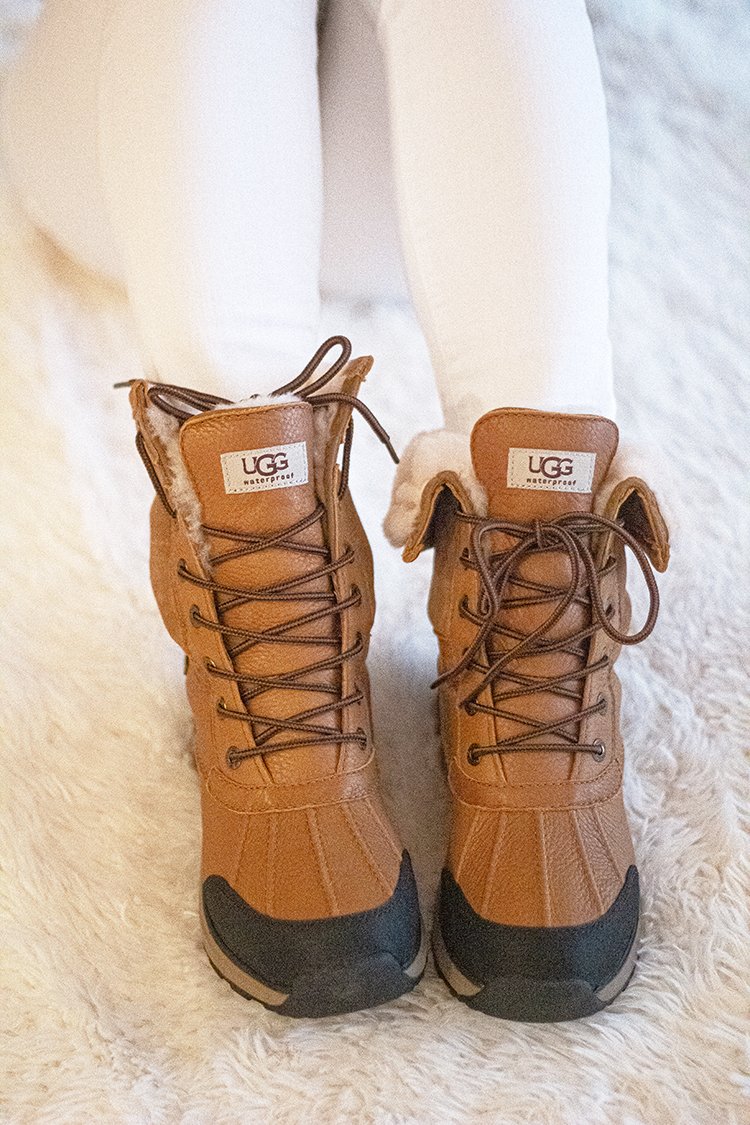 Winter footwear is not functionally indistinctive; for those who live in places with freeze-and-thaw cycles, you know that no shoe can do it all, so give yourself the freedom to buy an extra pair (or two) to make brutal winters a little more manageable.
The Adirondack III Boot is an evergreen UGG style: a heavier-duty option that strikes the perfect balance between function and style. If you want a warm boot that will work on somewhat treacherous terrains, and don't mind having to lace up before you set out, the Adirondack III might be the shoe for you.
CONSTRUCTION
The leather and suede upper of the Adirondack III Boot is waterproofed, along with the gusseted tongues, to keep feet dry. And the inside is lined in 17mm of a material called UGGpure, which is repurposed wool with a textile backing; the removable insole is made from the same UGGpure material, but can be replaced with orthotics for those who require custom inserts. There is also a moisture-wicking two-layered (soft foam and polyurethane pods) system for added cushioning and support.
The "winterized" rubber outsole is designed for high friction, though has a tread pattern that is not especially pronounced, and offers enhanced traction and sufficient stability on different surfaces (i.e., wet or dry), but not slick, icy ones.
USE
The Adirondack III is rated for slightly-below-freezing temperatures without wool socks, but the insulation is good enough that as long as you stay away from tall snow banks and getting a foot full of snow, this boot should take you into -40 °C.
The 7″ mid-calf shaft laces over the hem of your bottoms to provide some protection against snow mounds; but it can also be cuffed to reveal a shorter shaft on cold but dry days.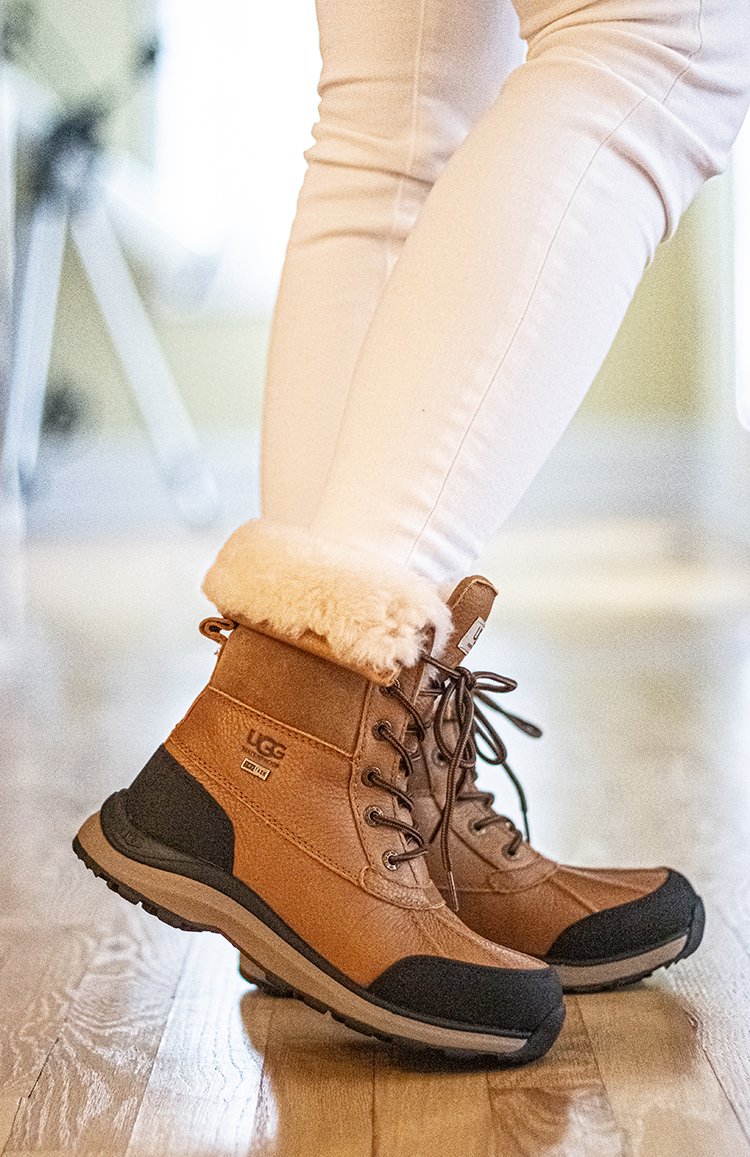 FIT
While the Adirondack III runs mostly true to size (though the width is on the slightly narrow side of medium), and will stretch slightly with wear, you may want to go up a size if you have wider feet or a high-instep; also consider sizing up if you plan on wearing thick boot socks.
The thick fluffy lining should ensure a snug fit (which aids in creating more traction) and won't require a break-in period.
ALSO CONSIDER
If you live in a place with heavy precipitation and very cold winters, the Adirondack Tall Boot may be a better option for trudging through knee-high snow. I also like the Sorel Caribou Boot if you don't mind clunky (it weighs twice as much as the Adirondack Boot) and want a wider base.
PRICE
The UGG Adirondack III's main drawback is its price tag. $250 is a lot to spend on shoes that you might want but perhaps don't covet. I have seen them discounted from time to time in the warmer months on Amazon (likely because of the pricing algorithm), but as an evergreen style they do not go on sale, and UGG is normally excluded from storewide promotions.
♥ ♥ ♥
Buy the UGG Adirondack Boot III Boot at UGG, Amazon, Bloomingdale's, Dillard's, Macy's, Moosejaw, Nordstrom, Saks Fifth Avenue, Victoria's Secret, and Zappos.