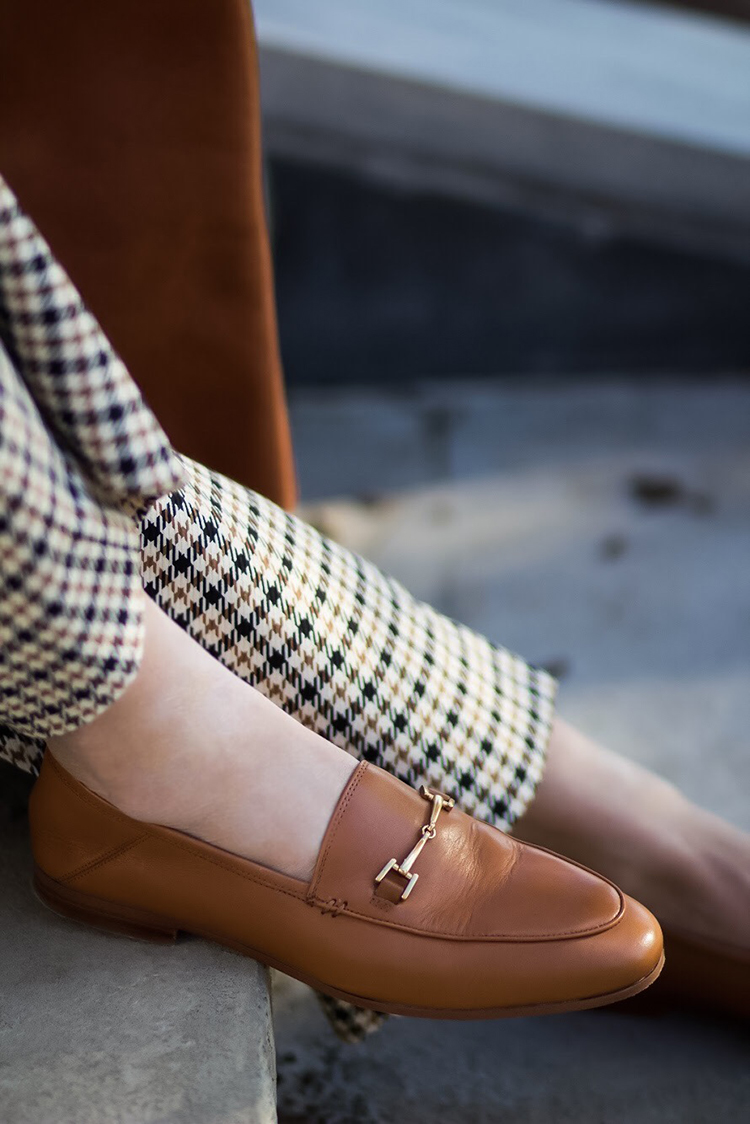 For fans of the Gucci Brixton Leather Horsebit Loafer who recoil at its price tag, the Sam Edelman Loraine Bit Loafer is a rather affordable copy that comes in a rainbow of colors. The two are so similar that Nordstrom ordered its version slightly tweaked to avoid cannibalizing sales of the Brixton Loafer.
The calfskin leather is soft and rather supple, but creases easily (as seen above). If you see wear as blemish, and not as character, you might consider the shoe in a patent leather.
The insole is adequately padded and the 1/2″ stacked heels add additional arch support. The construction is fair and the metallic horsebit on the vamp gleams.
The Loraine fits true to size for Sam Edelman, which I feel runs somewhat long (even with the classic round toe) and very slightly on the narrow side of medium width. So I elected to size up and insert heel cushions, even though my "normal" size fit fine. Expect them to stretch a bit with wear. Reviews online run the gamut from too-large to too-small, so if you want to try these, start with your "normal" size.
For me, these loafers required no breaking in and were immediately comfortable. As always, when wearing new shoes, I recommend having at the ready athletic tape (to prevent or cover blisters), moleskin, and anti-blister balm.
If you can't decide on a color and don't own any other loafers, I would recommend one of the more conventional colors: bright white (a bestseller this past spring/summer), black, saddle (pictured here), lipstick red, or "classic nude" (which I also own).

Buy the Sam Edelman Loraine Bit Loafer at Sam Edelman, Bloomingdale's, Amazon, Dillard's, Shopbop, Neiman Marcus, Nordstrom, Shoes.com, Lord + Taylor, Belk, and Zappos.