My brother's sartorial sensibility and interest in shopping couldn't be more different from mine: He feels perfectly at home wearing the same faded sweatshirt, and I… go through clothes like Zara would fail without my business.
As clothes shopping isn't his favorite, I sometimes frequently send him things that I would buy for myself if they were available in my size, with outerwear accounting for a large share of these gifts. Over the years I had given him ubiquitous Canada Goose down jackets, casual L.L.Bean field jackets, trendy J.Crew shirt jackets, and classic Baracuta Harrington jackets. From what I can tell, these jackets mostly sit idle in his closet. But I don't give up, because 1) I like to shop and 2) I refuse to accept that two people who had virtually identical upbringings ended up having such different tastes in clothes.
♥ ♥ ♥
In 2021 I ordered Levi's Cotton Canvas Hooded Utility Jacket with Sherpa Lining as a gift for my brother, because I was tired of seeing him in the same well-worn bomber jacket. And it is this gift, of modest value, that he chooses to wear almost every time I see him.
To commemorate my genius gift giving, a while back I picked up the same coat in another color for him and asked to borrow the original jacket for these photos. And I can finally appreciate why he wears it all the time: it is warm and surprisingly lightweight; the side pockets are roomy and useful (though I wish they were zippered); the generous hood can be adjusted if you need peripheral vision; and the sherpa lining is a warp pile fabric with uncut loops that resembles terry cloth (not a fuzzy faux fur, which can feel itchy to those who are sensitive).
It also comes in 28 colorways, so there's probably something for everyone.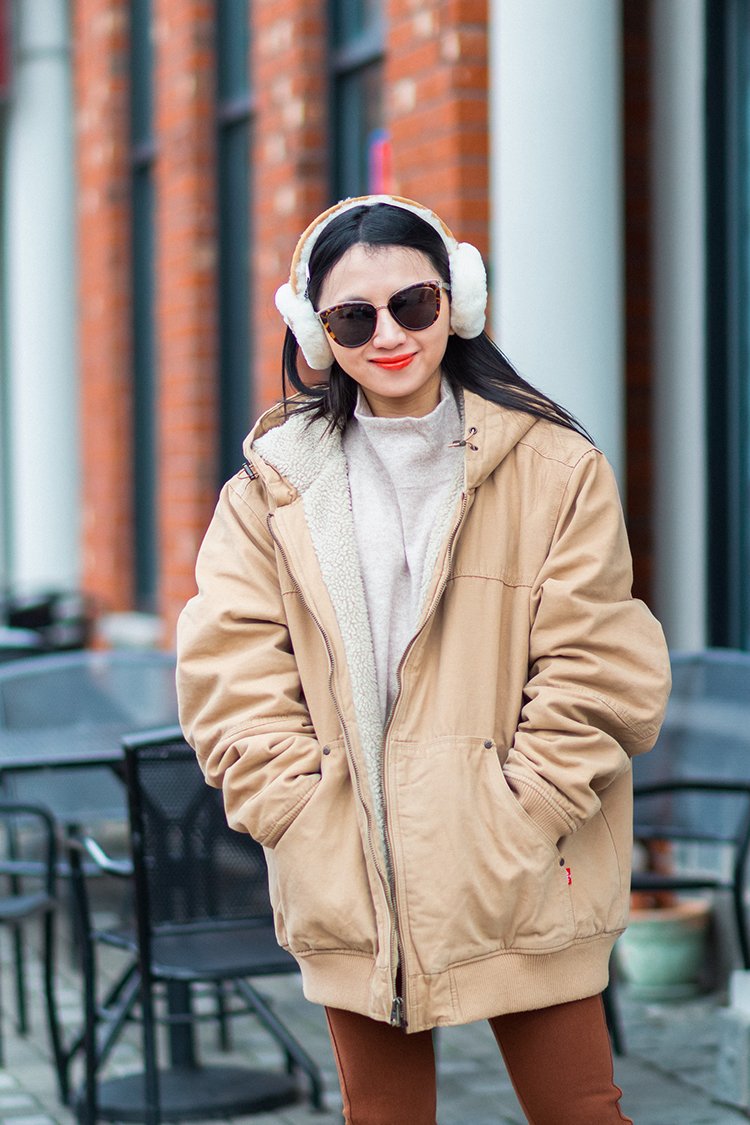 ♥ ♥ ♥
And in sale news, the Madewell Small Transport Crossbody Bag that I own in six colorways is on sale at Nordstrom in "English Saddle" and "True Black" and on sale at Madewell (with colorblock webbing strap) in Dark Cabernet.
Happy shopping!