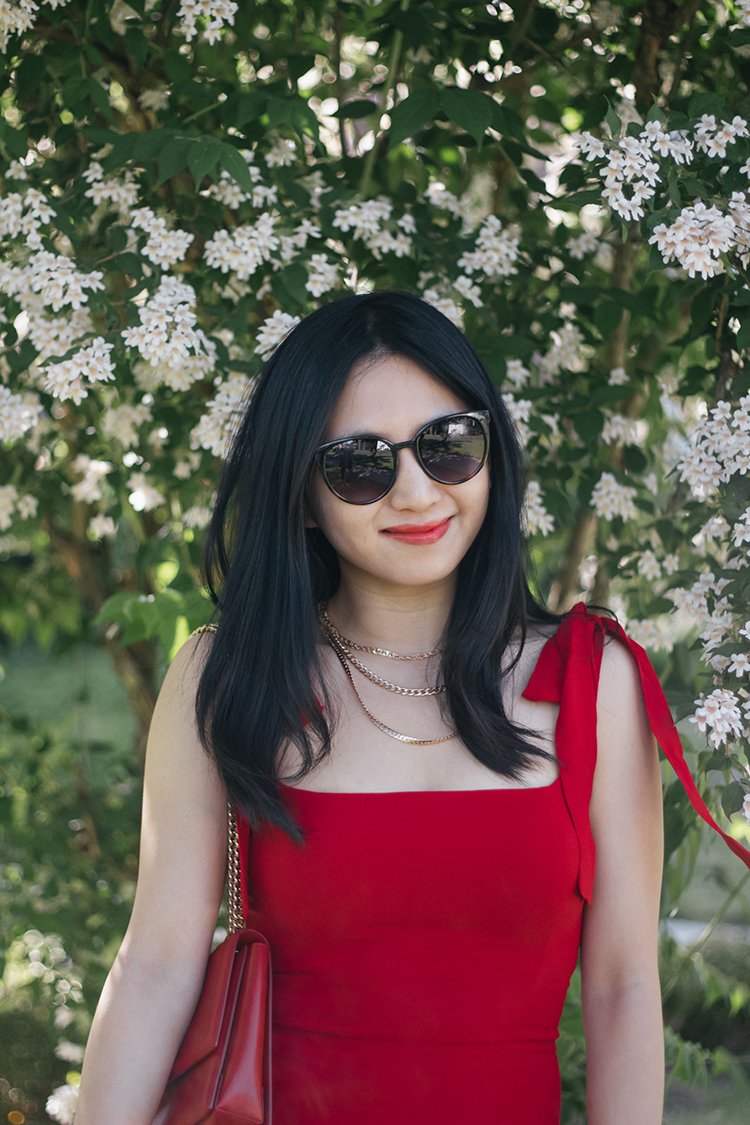 + Le Specs, which makes some of my favorite sunglasses, is currently running a birthday sale, during which all styles are 30% off, including the Armada and the Caliente that are frequently featuredin my posts. Some sale picks:

+ Inside the Delirious Rise of 'Superfake' Handbags (The New York Times): "… in the past decade or so, a new breed of knockoff purses has come onto the scene from China — boasting shockingly good quality and slipping through customs gates like sand through a sieve. And, as many an angry resale buyer can attest, they're able to fool even the most well-trained eye … Designer houses spend billions fighting dupes, but even real Prada Cleos and Dior Book Totes are made with machines and templates — raising the question of what, exactly, is unique to an authentic bag. Is it simply a question of who gets to pocket the money? … Those whose business it is to verify luxury bags insist, at least publicly, that there's always a 'tell' to a superfake. At the RealReal, where designer handbags go through rounds of scrutiny, including X-rays and measuring fonts down to the millimeter … 'sometimes, an item can be too perfect, too exacting, so you'll look at it and know something is up' … the sheer volume of counterfeit imports — fakes in general are estimated to be a bustling, multibillion-dollar industry — means that authorities are able to inspect, on some estimates, as little as 5 percent of what comes in. For superfake sellers and buyers, those are great odds."
+ (From 2022) The Rich New York Women Who Love Their Fake Birkins (The Cut): "Although the majority of RepLadies are based in New York City, you'd be mistaken to think of the sub as some kind of virtual Canal Street. According to a self-reported survey it released last year, the group spent more than $3 million on replicas in 2021, and among its members were several chief executives, venture capitalists, a diplomat, and a Big Tech ethics adviser. In fact, the community seems to be largely made up of wealthy women who own authentic bags, can absolutely afford more, and continue to buy fakes. There are hundreds of posts comparing the two, with RepLadies analyzing the fake within an inch of its life … These gimlet-eyed assessments usually reveal the reps as indistinguishable from the authentics. Sometimes, the fakes are actually better. But RepLadies aren't just here for the quality; the know-how required to navigate the high-end replica market is in itself a kind of currency, one that seems to appeal to even the wealthiest of women. For this cadre of rep obsessives, status isn't a massive collection of real luxury bags; it's the ability to find a fake so perfect it feels more theirs than the real thing."
+ Fashion's Latest Comeback? Actually Wearable Clothes (The Wall Street Journal): "After two years of dressing for Zoom screens during lockdown, and at least a decade of ostentatious "like me!" outfits spamming our Instagram feeds, many women are looking to make an impact IRL, not online. Instead of buying trendy frippery to flaunt in social-media posts, stylish sorts are craving wearable clothes with subtle details like hand-stitched hems, carefully sculpted silhouettes or luxe textures—details that they, and anyone within a 5-foot radius, can appreciate in the moment. And designers are delivering."
+ Fashion at the Coronation: What the Guests Wore (CNN): "Much has been made of the departures from tradition for the coronation of King Charles III and this extended to the guest's dress codes. Gone were the requests for attendees to wear grand robes or ceremonial attire in favor of a more relaxed, pared down look. Members of the royal family, however, arrived in traditional regalia."
+ (Podcast) What I Was Thinking As We Were Sinking (This American Life)
+ Shein, Fast Fashion Hit With Gen Z, Tries Charm to Counter Scrutiny (The New York Times): "… the e-commerce retailer has also gained vocal critics who have questioned, among other things, its connection to China, accused it of stealing designers' works and pointed to how its cheap merchandise contributes to environmental waste. Shein, for the most part, has been tight-lipped through it all. Now, the company is looking to change the perception of its business and practices ahead of its expected filing for an initial public offering. It has poured millions of dollars into initiatives that seek to address the longstanding criticisms as a way to earn good will. In the process, Shein is positioning itself as a retail juggernaut with whom industry stalwarts will inevitably have to share space … Shein, which is regularly accused of copying designs, recently held a daylong summit in Los Angeles with hundreds of designers in an attempt to show that it wanted to work with and not against them. The event was part of a $55 million initiative that Shein began in 2021 to hire and fund artisans to make clothing lines for its site."
+ I Regret to Inform You That Bluesky Is Fun (WIRED): "Backed by Twitter cofounder and ex-CEO Jack Dorsey, Bluesky is part of a motley pool of competitors jockeying to become the next great microblogging platform, including Hive, Mastodon, Post, Truth Social, T2, and Substack Notes … Bluesky looks like a stripped-down version of Twitter, missing features like drafts, a 'block' button, and direct messages. It's easy to use, but that's because it's so unoriginal—if you've ever tweeted, you'll be familiar with the interface. It's decentralized, but that's not unique either; Mastodon is too. And while Mastodon emerged as an early front-runner for Replacement Twitter, its brief surge in popularity didn't last and it will likely remain a niche product. (Too confusing!) Bluesky was originally incubated at—and funded by—Twitter in 2019; it only became a stand-alone company in late 2021 … The most impressive feat Bluesky has managed isn't technical, but cultural. It has recreated an older, better era of the internet, one that's actually fun … Users are playfully creating their own lingo; they call posts 'skeets.' (Threaded posts are 'ropes.') The vibe reminds me of the weeks when Clubhouse was invite-only and looked like the next big thing, before it got overrun by hustle culture gurus and crypto entrepreneurs."
+ Yeezy Shoes Still Stuck in Limbo After Adidas Split with Ye (The Associated Press): "… with 'so many interested parties' involved in the discussions, no decision had yet been reached … the company was 'trying to avoid [destroying the shoes but]' … other options have drawbacks: from paying royalties to Ye to sell the sneakers, peddling dishonesty if the shoes are restitched, and expected resales if they're given away to people in need because of their high market value … The breakup will reduce earnings by 500 million euros this year if Adidas decides not to sell its remaining Yeezy stock … Profit was down to 60 million euros in the first quarter from 437 million euros in the same period a year ago. Net sales declined 1%, to 5.27 billion euros, and would have risen 9% with the Yeezy line."
+ Why Barbie's Arch Is a Podiatrist's Nightmare (The Wall Street Journal): "… though Barbie may be human for the first time, her high-arched balancing act is still as unattainable as her original plastic pose … The Barbie pose is part of just another day at work for professional dancers, known to them as a demi-pointe, or sometimes half-pointe, position. It's a move a dancer's foot would typically make while transitioning from one position to another … But even the most experienced dancers would have a difficult time spending several hours only on the tips of their feet … Podiatrists said holding the foot in an arch day in and day out can eventually cause the calf muscles to shrink—making it painful to bring your heel back down to earth again."
+ Gray Floors Elicit Visceral Reactions. So Why Are They Seemingly Everywhere? (The New York Times): "Gray floors have been a source of vitriol for many people, who've expressed their distaste on social media with posts that have frequently gone viral … In the past few years, gray flooring has become a default option among many developers. Designers and architects think the vast grayness is a result of the past decade's dominating minimalist aesthetic, as well as developers viewing it as a safe and inoffensive option. Gray flooring in apartments is also often laminate — a synthetic material that gives the appearance of wood and is cheaper than real hardwood flooring … Among wealthy homeowners, a shift away from gray is already in motion. 'In high-end, luxury residential homes that are very custom, those are the first people to start going in a different direction because they can afford something different.' Those clients … are moving toward the extremes, either black floors or very light, sand tones."
+ LOFT sent out $25 one-time use codes to select email subscribers this week, which expire at the end of today, 05/07/2023. This code can be used with the current offer, which is 49% off your entire purchase with code MIX. My picks:

+ Why Won't Powerful Men Learn? (The Atlantic): "It's worth conceiving of #MeToo as a struggle for power because this frame places appropriate emphasis on who is actually in control of workplace cultures and environments, versus a more limited view that imagines #MeToo as a collection of many different conflicts between many different individuals. Each of these instances matter … but the systems of corporate hierarchy that allow high-ranking company players to victimize other employees are much more crucial to ongoing workplace toxicity than any one individual, or even all of the individuals combined. The pioneers of the #MeToo movement found their greatest success in looking beyond their immediate resources for justice—in going outside the systems that had disempowered them—to vindicate their rights … No law and no regulation yet has been ambitious enough to solve the problem of rich and unaccountable men. Instead the struggle to work and to live like dignified people in a civilized society has been won by smaller shifts in power in lesser victories that are still being decided, even now."
+ Help, My Therapist Is Also an Influencer! (Wired): "During the pandemic, when the world's mental health took a nosedive, the amount of mental health content on TikTok shot up; today, the #mentalhealth tag has 70.5 billion views. Add to this the explosion of the app's popularity, with users more than doubling since Covid struck, and you get TikTok therapists broadcasting advice to their followers en masse. As more and more therapists have started posting advice online, especially on TikTok, professional bodies have struggled to keep up … These guidelines call for the online and physical worlds to be kept separate as much as possible … The content produced by Guenther and other therapists defies the traditional picture of therapy: that it be bespoke, tailored to your history and emotional needs—instead, it's overtly general. And amid the love his followers show for him, some of Guenther's videos have been called out for offering advice that is too one-size-fits-all or which borders on toxic positivity … In an ideal world, people wouldn't be getting their mental health advice from TikTok or Instagram … But for reasons of cost or lack of practitioners, therapy is inaccessible to many. For some, social media may be the only way they can access help. If a therapist-influencer can give people basic tools rooted in evidence to help themselves, ;then that's really beneficial.' "
+ The Sad Dads of the National (The New Yorker): "For more than two decades, this has been the National's grist: not the major devastations but the strange little ache that feels like a precondition to being human."
+ Getting Married in a Nap Dress (The New York Times): "The dress has a smocked bodice and a full skirt that typically hits above the ankles. It has been produced in several styles, colors and patterns, and has been adopted by various types: influencers, of course, but also mothers … and even brides … Hill House Home is expanding into bridal with its first wedding line. It features more than a dozen pieces, including three new Nap Dresses in white fabrics."
+ It's Time to Embrace the Era of Mid Entertainment (Harper's BAZAAR): "… many movies … aren't masterpieces but also aren't congratulating the audience for their edgily bad taste. They are movies that are aggressively middle of the road, the apex of mid entertainment … mid entertainment is anti-discourse. Or maybe it's more accurate to call it discourse-proof. The drive to create discourse has taken over nearly every aspect of narrative media … The result of paying attention is either stunning yourself into paralyzing anxiety or sinking deep into depression or rage, or both. This insistence on hyper fixation has seeped into our culture's commercial art, so that it is not enough that a tv show or movie is clever or passably entertaining–they become 'essential viewing', things you have to have an opinion about, things that need your full attention. The fallacy, of course, is the idea that scrutinizing these cultural products for their connection to all of our ills is the same work as actually trying to resolve those ills. Sadly, it does not work that way. Demanding the casting of Black billionaires on Succession doesn't do anything meaningful around questions of race and income inequality and kind of misses the whole point of the show. Mid entertainment does not make these demands … I don't have to talk about it with anyone to make it make sense … There's no point of view in mid. There's no sense of authorship or voice. Mid is media that has gone through multiple writing rooms and producers until all the flavor has seeped out and you have the equivalent of a frozen Stouffer's mac and cheese—comforting, bland, free of taste. CBS built a whole network around the concept of mid entertainment and rightfully experienced network domination in the last, dying days of linear tv."
+ Recently purchased: Bardot Annabelle Bow Mini Dress, J.Crew Bristol Blazer in Stretch Linen Dlend, CHERRY CAT Cover-Up Caftan Dress, The Drop Anaya Square-Neck Maxi Dress (currently 57% off in "Tan"), Socialite Ruffle Faux Wrap Sundress, Favorite Daughter The Favorite Pant Pleat Pants, Free People Flawless Hooded Denim Jacket, Gap Square Neck Mini Dress, and Osprey Daylite Tote Daypack,.
Have a great week, everyone.