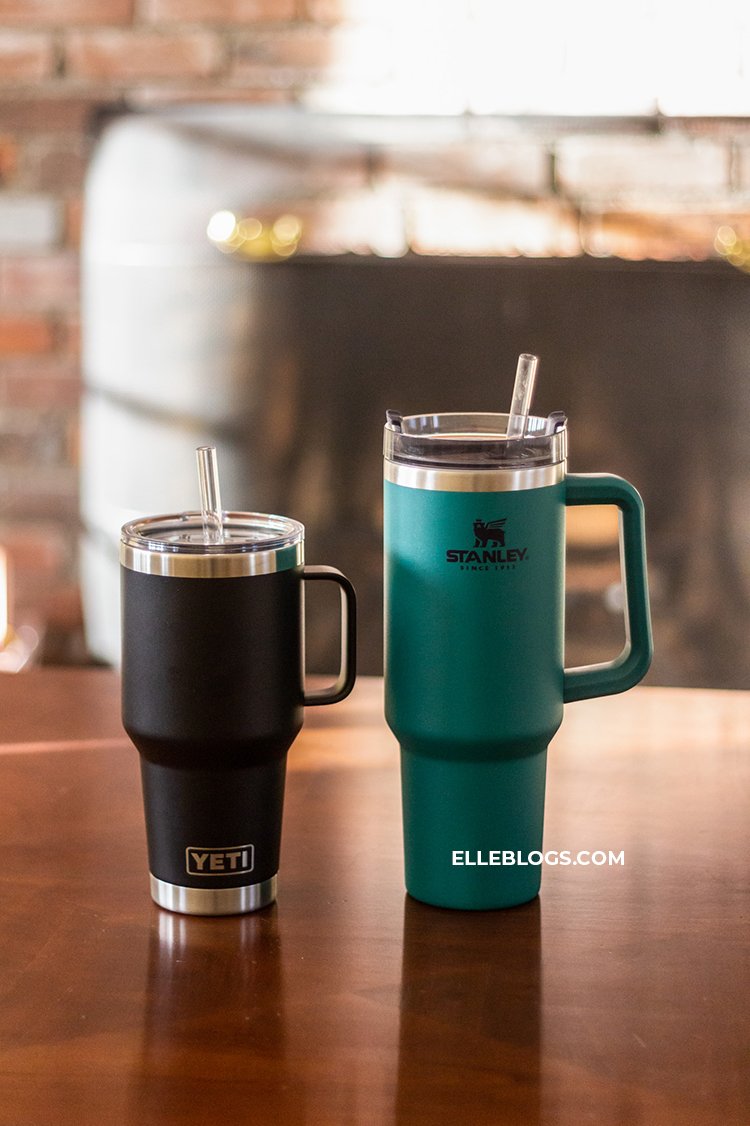 One of my New Year's resolutions(/memes) is to drink more water, which is a continuation of last year's resolution. It's a goal in progress, but all the travel drinkware I bought in 2022 have made it easier to consume more fluids throughout the day.
Today I want to share a comparison review of the two travel tumblers that I am currently using the most: the Stanley 40oz Quencher Travel Tumbler (also sold here) and the Yeti Rambler 35oz Mug with Straw Lid.
These two tumblers' key features are the removable lids (which accommodate straws), sturdy handles, and their larger capacity (which encourage consumption). Read on if you can't decide which to buy.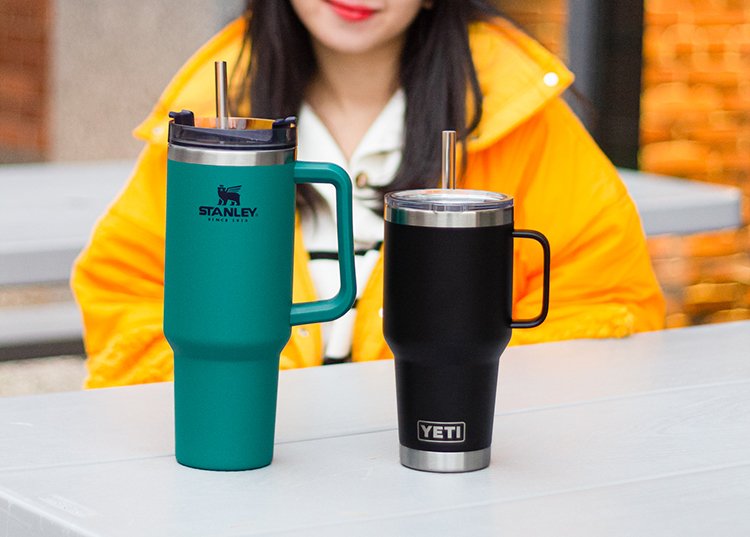 APPEARANCE AND CONSTRUCTION
Both the Yeti Rambler and Stanley Tumbler are constructed from kitchen-grade stainless steel, which is rust-resistant. Both are conveniently dishwasher-safe, but I mostly hand wash mine (with help from a bottle brush), as I am skeptical that the machine can adequately clean the bottoms of these tall mugs.
In terms of appearance, the Stanley Adventure Quencher Travel Tumbler is made-for-the-gram and comes in a beautiful rainbow of colorways, while the squatter Yeti tumbler is only available in the brand's seven standard colorways, which are classic but predictable and thus unexciting.
SIZE
The 40oz Stanley Adventure Quencher Travel Tumbler weighs nearly 1.5 pounds empty and measures 3-7/8″ in length, 5-13/16″ in width, and 12-1/3″ in height. And the Yeti tumbler measures 5″ wide, and 8-1/3″ in height, and weighs a little over 1.25lbs empty.
The handle on the Stanley Adventure Quencher is on the larger side, and is comfortable to grip, while the one on the Yeti Rambler is noticeably smaller. If you have bigger hands, you might find the wider handle of the Stanley Adventure Quencher easier to hold.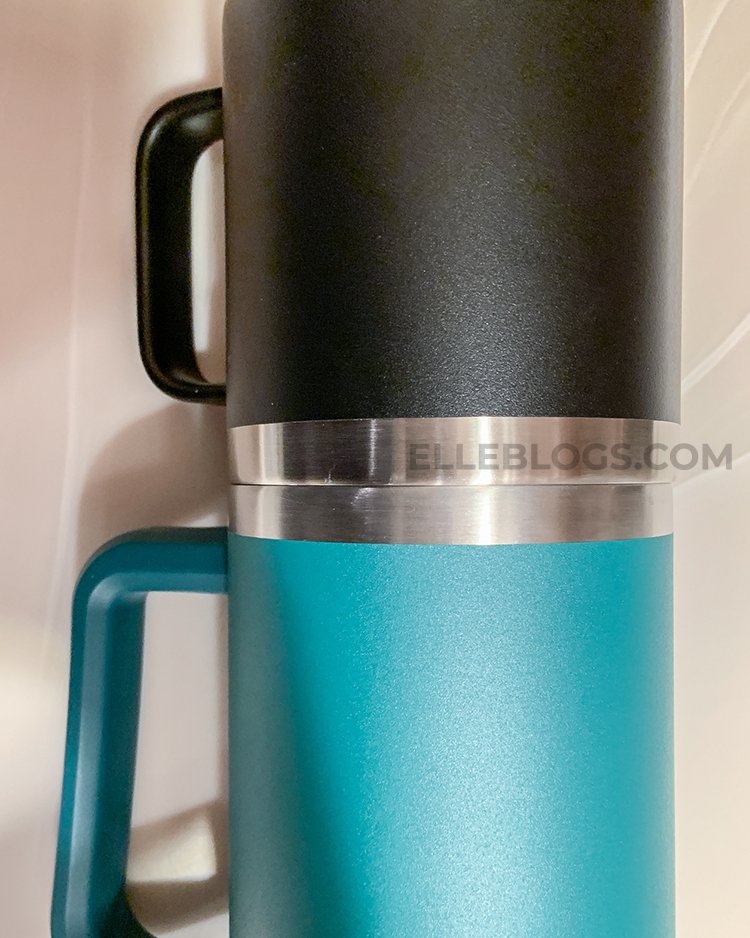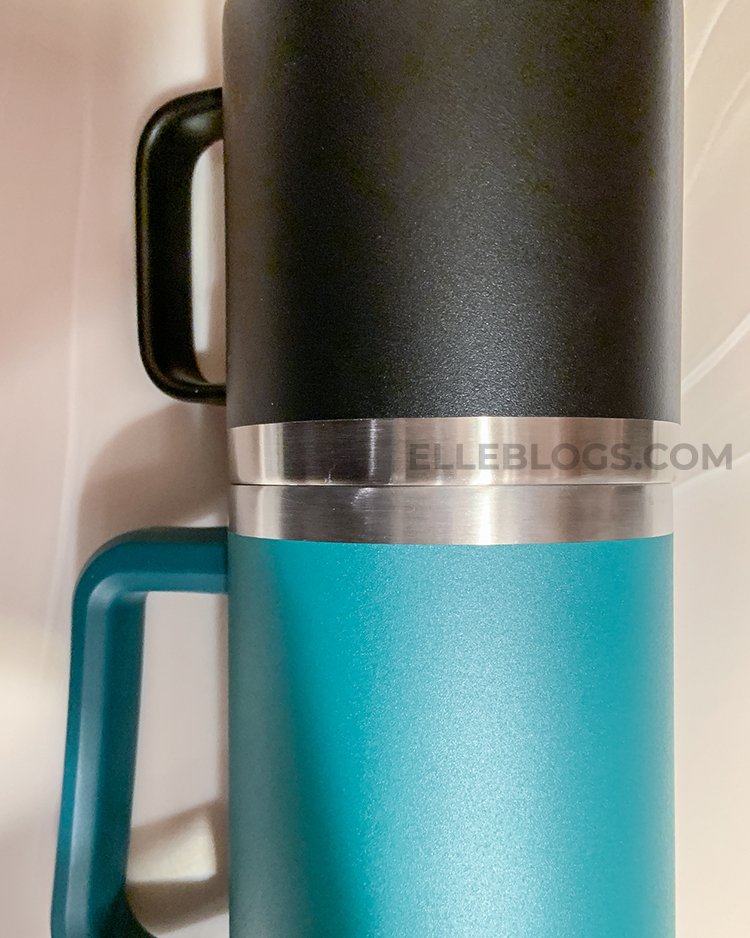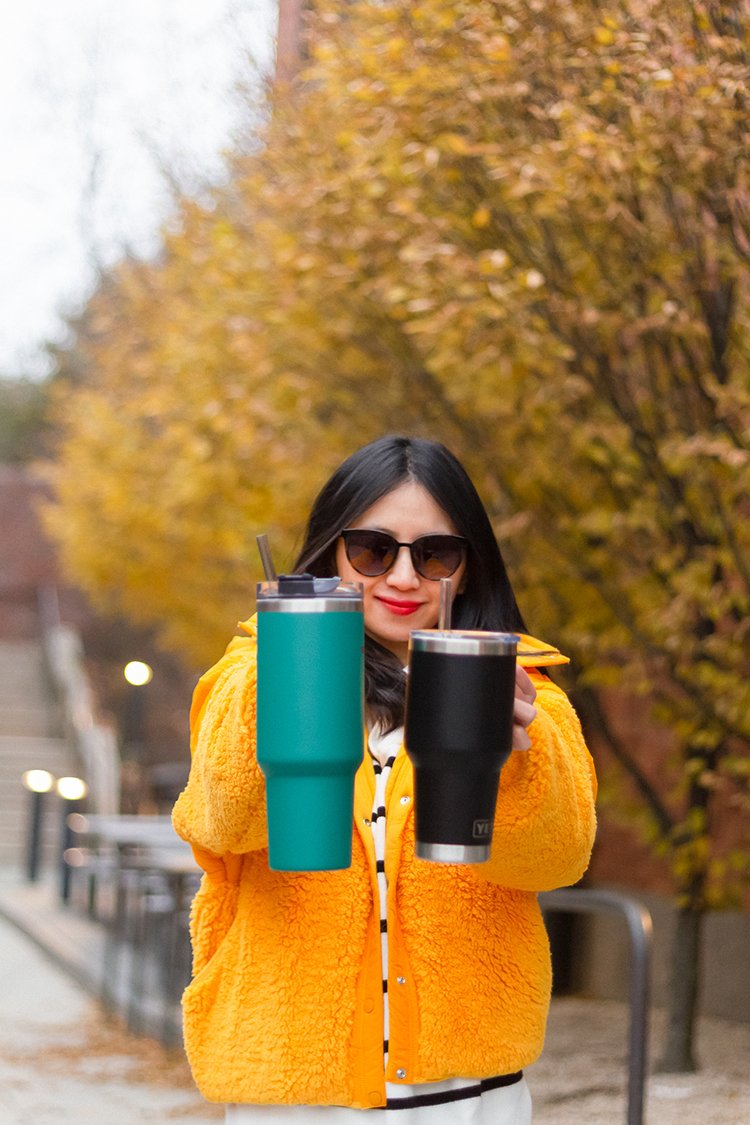 USES
Because of their plastic straws, neither the Stanley tumbler nor the Yeti rambler with straw lid are suitable for hot drinks (but remove the straw and the tumblers will keep hot drinks warm for several hours), and the manufacturers recommend cold or tepid drinks with these strawed vessels. For the Yeti option, however, you can replace the straw lid with one of the brand's Magslide Lids, which are compatible with hot beverages.
A few words about their lids, the Yeti 35oz Rambler is threadless and its lid is press-and-fit, while the threaded lid of the Stanley Adventure Quencher screws onto the mug and has a rotating cover with three positions. As neither lid is leakproof, the best uses for these beverageware are for travel (in cars), the gym (even though both mugs are large, they have been designed with tapered bottoms that fit into cupholders), and on your nightstand or desk.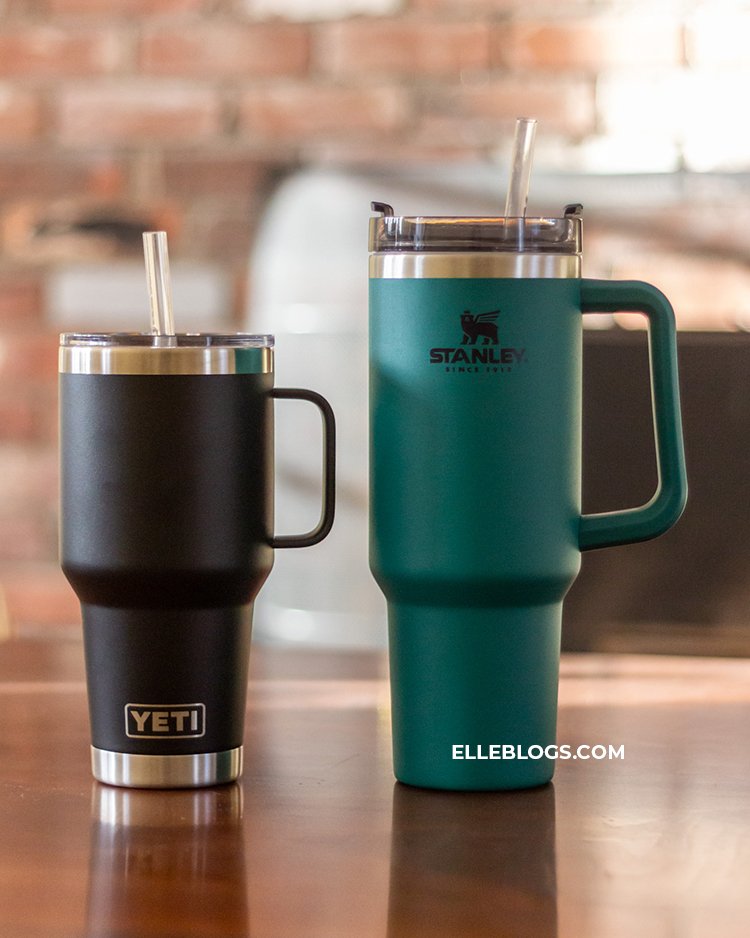 Lids and straws aside, with their double-walled stainless steel construction, in my experience both tumblers keep hot beverages warm for 2+ hours and cold drinks cold for 5+ hours (actual performance might be better, but I haven't let my drinks sit out for longer than the time estimated above).
For boba lovers, I'd recommend the YETI Rambler Mug with Straw Lid over the Stanley Quencher Travel Tumbler, as the former has an opening on the lid large enough to accommodate boba straws, while the latter's lid is just a hair too small for boba straws. (Most boba straws also aren't nearly long enough to reach the bottom of the Adventure Quencher, which is over 12″ tall.) The longer body of the Stanley tumbler also makes it difficult to suck up toppings, so this tumbler is best for well-blended or low-viscosity liquids.
If you are just looking to consume more water, the Stanley tumbler is a great option, as emptying one gets me most of the way to my aspirational daily quota.
In terms of versatility, however, the YETI rambler is a winner for people who prefer beverages with hearty mix-ins.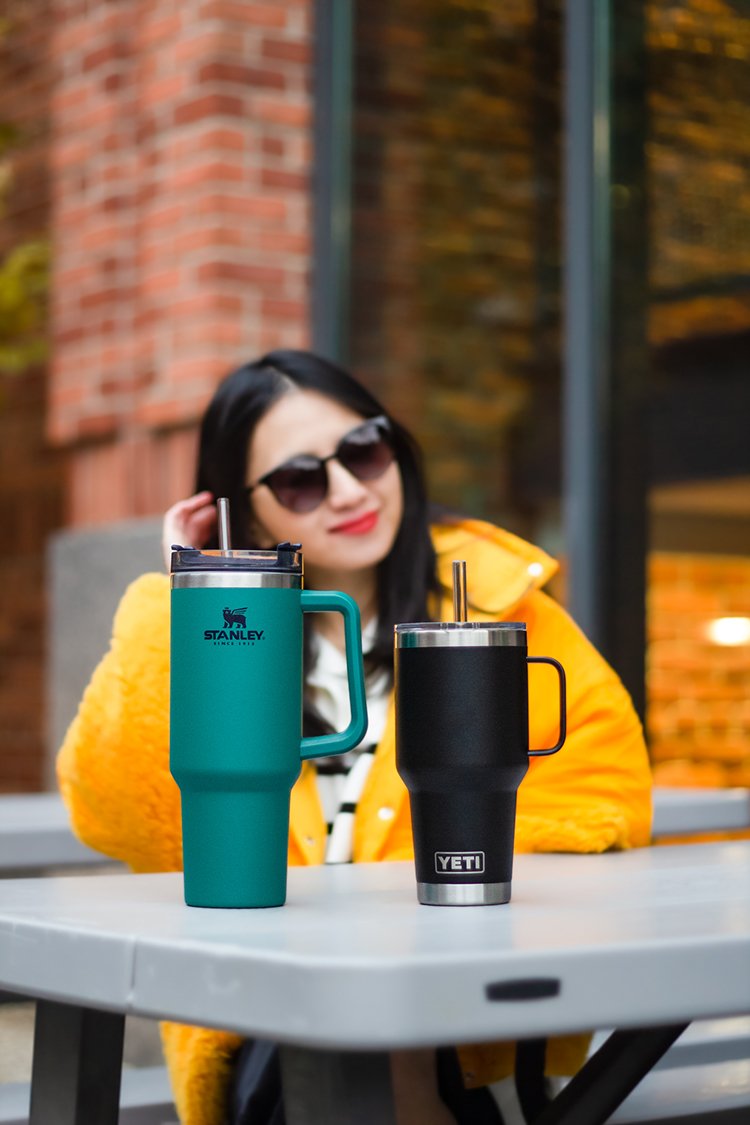 PRICE
The Yeti 35-ounce mug retails for $42, while the 40-ounce Stanley Quencher Tumbler is listed for $40. These prices seem fairly attainable for products that go viral on TikTok, but you are still paying a hefty premium for the Yeti and Stanley name. Lookalikes go for 1/4-1/2 the price of these better-known styles on Amazon, but I feel the after-sales service justify the markup.
You can buy the Stanley 40-oz Travel Tumbler at Amazon, DICK'S Sporting Goods, eBay, Etsy, Stanley, Target, Urban Outfitters, Walmart, and William Sonoma.

And you can find the Rambler 35-oz Mug with Straw Lid at Amazon, Dick's Sporting Goods, L.L.Bean, and Yeti (for the time being). Yeti also makes a handle-less 26-oz rambler with straw lid (which I also own) if you are looking for a smaller option.