**This post contains affiliate links and gifted pieces; I may earn an affiliate commission if you make a purchase through my links**
The public green space I discovered in the early months of the pandemic grew so popular with other people also shunning indoor activities that I stopped visiting once it became difficult to find parking. But after travel became normalized this spring, the crowd started to thin, and it's once again a quiet, solitary space.
When I don't go into the office, I'll take a brisk walk there during my extended mid-day break, armed with just a large smoothie and Lion bars for sustenance.
As the weather has been seesawing between pleasant and dreadful, for these walks I have been clothed almost entirely in a new-to-me brand: Woolly (also sold on Amazon), which is based in Seattle and specializes in merino wool gear.
Woolly offers lightweight pieces ranging from functional base layers to technical outerwear to comfortable loungewear. I was initially unsure what space these pieces would occupy in my closet, but they are proving unexpectedly versatile, and are an elevated alternative to cotton sweats and polar fleece.
I didn't think I would like the mid-thigh length of this Pullover Hoodie, but it works so well with leggings and yoga pants. The "modern" cut is softly-fitted without being tight, and the material (a midweight 320 GSM wool) is warm enough for transitional weather in the northeast and can be layered for late fall without looking bulky.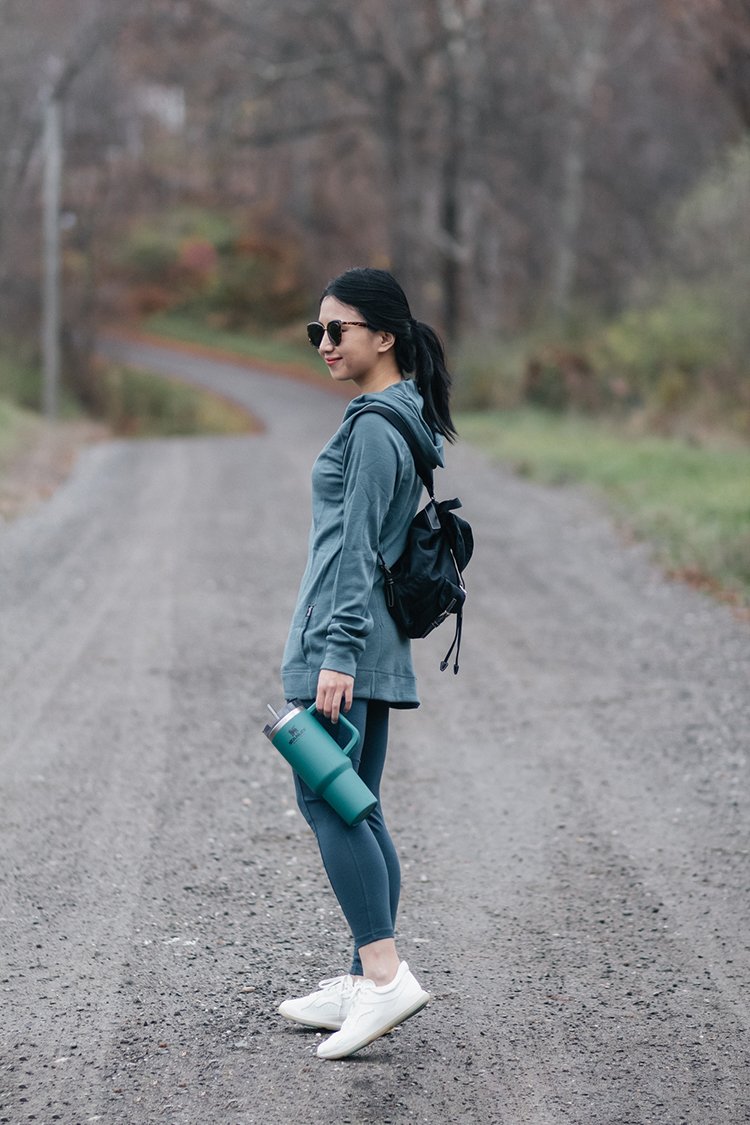 This loose-fitting zip hoodie is technically midweight (250 GSM) but feels featherlight. I like the sleeves with thumbholes, hand warmer pockets, and tagless design (which I believe is used across all Woolly designs).

The Longhaul Weekender Pant is the rare Woolly style that's not 100% wool, but the 4-season material–66% wool, 29% cotton, and 5% elastane–feels more technical and sturdy compared to its all-wool counterparts.
The style is full-length on 5'2 me and the overall fit feels relaxed but not oversized. There are also numerous pockets in which you can temporarily stash necessities.

The only negative comments in reviews about these 7/8th Leggings, which are ankle length on 5'2 me, were related to coverage, so I upsized despite feeling unsure about the fit. And I am glad I did! I didn't notice any issues with sheerness in the color "Deep Sea," and the midweight fabric (95% wool and 5% elastane with a brushed texture) was warm, breathable, and stretchy.
While these wool leggings probably aren't great for intense workouts, they should be fine for everything else. I also plan to wear them as a base layer in the winter as they do an adequate job of retaining heat.

As much as I like my Woolly pieces, I haven't owned them long enough to be able to speak definitively about their durability. That wool will pill with wear is an inevitability, but you can delay this process by hand washing inside out with a specialty detergent and drying on a flat drying rack.
Another issue to consider is that Woolly pieces are pricier than majority-polyester styles you might find at mass market retailers, and there are fewer discounts. But I'd recommend the brand to those who are shopping for everyday basics and with sustainability in mind.