+ J.Crew is one of the retailers who have debuted their Black Friday/Cyber Monday sales early. Until 11/15/2022, take 40% off full-price purchases and an extra 50% off sale styles with code SHOPEARLY.

+ Can Hypebeast Magic Revive J. Crew? (The New York Times): "… instead of a broad design statement, Mr. Babenzien appears to have settled for tweaking: shifts in palette that render Fair Isle pullovers in skater pastels; carpenter pants produced in corduroy; woolen barn jackets in heathery plaids; funky shorts in nautical prints based on paintings by the artist Willard Bond; suits in novel shades of black; wardrobe staples like hoodies manufactured in the solid-gauge cottons that were a given before mass market labels like J. Crew traded quality for profit. Just as concerning is how tough it is to find the new Babenzien J. Crew men's wear at the label's other outposts around Manhattan … if J. Crew is to succeed again … it's going to require a bolder statement of intent, a bit of Ralph Lauren special sauce, an element of whatever it was that had people lining up for hours on Lafayette Street each Thursday morning for Supreme's latest drop."
+ Luxury's Growth Expected to Slow Dramatically Next Year, Bain Says (The Business of Fashion): "… Following a stellar pandemic rebound, concern has mounted regarding how long luxury's winning streak can last in the face of slowing GDP growth, rapid inflation and a global energy crisis. Consumer confidence has plummeted to its lowest level in decades … this year the industry has been buoyed by a 'YOLO' (You Only Live Once) attitude among consumers as the world emerges from the pandemic. Consumers also increasingly view luxury goods as an asset class with resale opportunities … Brands' efforts to court top-spending clients with unique experiences and exclusive products have paid off … This year, about 2 percent of luxury customers will drive 40 percent of sales."
+ The Chicest Flats for When You'd Rather Wear Heels (The Wall Street Journal): "If heels' chicness was your primary draw, consider dipping your toes into some loafers … trendy lug-soled versions '"'give you a little bit of height…and make you feel dressed' like heels do … If it's elegance you're after … fall's sleeker shoes, like ballet flats, mules and slim, pointed styles, feel fresh—especially when they punctuate a wide-leg trouser. And for anyone seeking the illusion of height … sporting flats with a monochrome wardrobe. 'Wearing the same color from head to toe elongates the silhouette.' "
+ Why Are Men Now Wearing Lace? (The New York Times): "In recent years, lace has appeared on the men's wear runways for … Even mainstream stores including Walmart and Amazon now sell lace shirts and accessories for men … Lace by its very nature is paradoxical. It covers and reveals at the same time, managing to be both chaste (like wedding veils) and provocative (like underwear). This peekaboo quality amps up the eroticism, and yet lace is also the stuff of grandmotherly hankies and doilies … Lace also fits into a broader shift toward gender-fluid fashion, with younger consumers blurring the lines between what was traditionally considered male and female … Whereas past generations might have worn lace for shock value, young men today are simply indulging in free expression."
+ Estée Lauder to Buy Tom Ford in $2.8 Billion Deal (The Business of Fashion): "While Estée Lauder is the main buyer, there may be multiple partners involved, as the beauty conglomerate is unlikely to attempt to enter the ultra-competitive luxury fashion space on its own … Estée Lauder was reportedly in competition with Ford's former employer, the European fashion group Kering … For Estée Lauder, which launched the Tom Ford brand in 2005 as its official beauty partner, severing ties — and losing the profits it makes on its skin care, makeup and perfume — would be detrimental … Owning Tom Ford outright will generate more profits for the group, which has shifted its business away from less lucrative licensing agreements in recent years. Tom Ford also sits squarely in the prestige makeup and fragrance categories, which grew 18 percent and 13 percent, respectively, during the second quarter of 2022."
+ Take 40% off your purchase during Madewell's Early Black Friday Sale; enter code OHJOY at checkout. Shipping is free on all orders for Madewell Insiders (membership is free; sign up here)

+ Mini-Splurges Decline as Shoppers Feel the Pinch of Inflation (Bloomberg): "… some high-end shoppers … are feeling cautious about inflation and the uncertain economic outlook for the first time since the start of the pandemic … most exclusive luxury companies, including LVMH and Hermès International, reported robust sales … in the most recent quarter. But brands that don't have the same level of cachet are more vulnerable. Executives at Kering SA, whose brands include Gucci and Yves Saint Laurent, said in October they had seen some pressure on entry-price-point items in the most recent quarter … The number of luxury scarves, card holders and key rings sold online in the US has fallen by one-quarter through October compared with the same 10-month period in 2021."
+ A Custody Evaluator Who Disbelieves 90% of Abuse Allegations Recommended a Teen Stay Under Her Abusive Father's Control (ProPublica): "Colorado family courts began appointing parental responsibility evaluators, or PREs, to custody cases 14 years ago as a privately funded alternative to court-furnished evaluators. The litigants shoulder the cost, which can run into the tens of thousands of dollars, and in some instances the PRE is paid by only one of the parents in a dispute. The intent was to allow a broader range of psychologists, including those the court could not afford, the opportunity to lend their expertise to custody decisions. They have operated with little oversight … Since 2008, 864 children have been killed in cases where a divorcing or separating caretaker has been accused of the crime … in 117 of those cases, a family court was involved prior to the death but failed to prevent it."
+ 'Fast Furniture' Is Cheap. And Americans Are Throwing It in the Trash. (The New York Times): "Each year, Americans throw out more than 12 million tons of furniture, creating mountains of solid waste that have grown 450 percent since 1960 … Bits of tossed furniture can be recycled, but the vast majority ends up in landfills … The e-commerce furniture market alone was worth more than $27 billion in 2021, and projected to reach more than $40 billion by 2030 … Ikea is opening an average of 50 new locations per year; Amazon, the world's largest retailer, now has two private-label furniture brands."
+ FTX Tapped Into Customer Accounts to Fund Risky Bets, Setting Up Its Downfall (The Wall Street Journal): "FTX Chief Executive Sam Bankman-Fried told an investor this week that Alameda owes FTX about $10 billion … FTX extended loans to Alameda using money that customers had deposited on the exchange for trading purposes … FTX paused customer withdrawals earlier this week after it was hit with roughly $5 billion worth of withdrawal requests on Sunday … The revelation of the loans suggests that the root of FTX's downfall lay in its relationship with Alameda, a firm known for aggressive trading strategies funded by borrowed money … Mr. Bankman-Fried founded and is the majority owner of both firms. He was CEO of Alameda until last year, when he stepped back from the role to focus on FTX."
+ What to Do When a Once-Beloved Art Piece Has Lost Its Luster (The New York Times): "An artist whose work may initially be highly valued on primary markets like fairs and galleries may not hold that worth in secondary markets like auctions and private sales. In that case, there may be little chance to sell the piece for a profit, or even to recoup the original investment."
+ Bronny James' Complicated Reality, Where Recruiting Meets Great Expectations (The Athletic): "While Bronny is talented, he is not so talented that the expectations and the circus that will accompany him to any college campus are warranted. He is not a force like Zion or a unicorn like Chet Holmgren. He's not DJ Wagner, the top-rated player in Bronny's graduating class, or even Amari Bailey, his former Sierra Canyon teammate and five-star recruit who is now at UCLA. Not even close. And so, in whispers, some coaches are wondering if Bronny, the player, is worth Bronny, the circus … he's been hurt a bit by his famous surname, that no matter what Bronny does, people often want more."
+ Tired of Sneakers? Fancy Shoes Are Back for Men (The Wall Street Journal): "… as footwear gets more polished, men's clothing trends are skewing slouchy. This presents a styling conundrum: How to resolve black-tie shoes with comfy shirts and trousers seemingly designed for naps? The result is the inverse of the suits-with-sneakers look that has been a menswear fixture for the past decade … 'Men used to use sneakers to dress down formal looks, but now they are incorporating dressy shoes to elevate more casual [outfits].' "
+ How Should a Business Bro Dress? (The New York Times): "… Suit Supply, Lululemon, Club Monaco and Brooks Brothers … remain the go-to labels for a lot of white-collar workers. This is particularly true of bankers in the bullpens, guys newly out of M.B.A. programs, still making a mark and not yet so jaded they secretly yearn to burn their corporate logo fleeces … As for shoes, the preferred brands run to mid-price offerings from labels like Johnston & Murphy, To Boot and Allen Edmonds."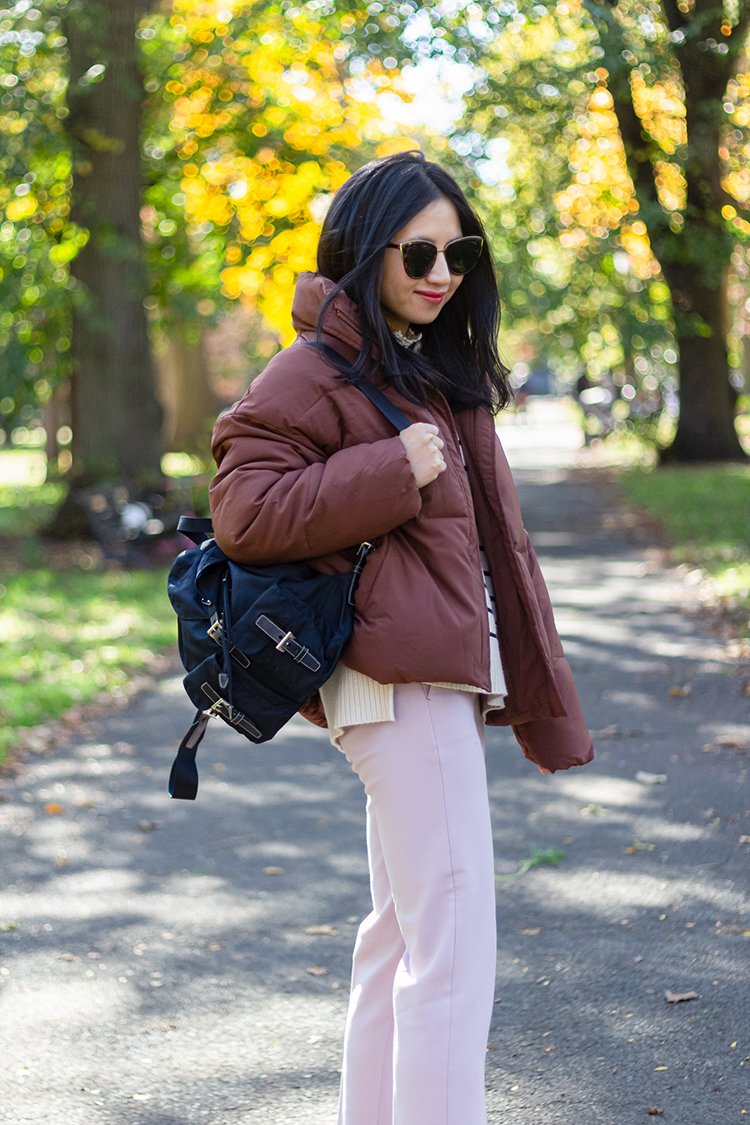 + The Rules Have Changed for What Colors Go With Brown Clothes (InStyle): "… brown, no matter the shade, is considered a neutral, meaning it not only pairs well with other neutrals and earth tones, such as black, cream, white, and olive green, but works to balance out brighter statement colors, too."
+ If You Want These Birkenstocks, You May Have to Pay Up (The New York Times): "The rise of the Birkenstock Boston did not happen overnight. The clogs were spotted in 2021 on the feet of many celebrities … Sales of Bostons are '"'up double digits,'"' according to a representative for Birkenstock, writing in an email that the company has seen increased interest in the style over the last several years."
+ House of Spears (Vulture): "… the conservatorship of Britney Spears is not a conflict that accrues moral complexity under further investigation. This is not the cloying tendency of American fans to conjure obstacles out of extreme privilege, not the 'prison of fame'"' or the isolation of superstardom or the trials of being trailed by paparazzi. It is a matter of an extraordinary woman deprived of basic human rights over a period of 13 years. The question worth asking is not whether the conservatorship was necessary or right — it was not — but why a father would seek to exert dictatorial control over the hour-by-hour life of his adult daughter … Jamie was fitfully employed … Later, people would try to argue that he and Lynne were stage parents, but when Britney … was, her teachers said, internally motivated, a perfectionist, a workhorse … Jamie and Lynne paid their taxes irregularly. They missed car payments. They made unorthodox financial choices, like paying for their daughter's various lessons and competition-related travel instead of all their taxes, and sending their children to a private school established on the eve of integration, where, when asked whether the school served any Black children, an administrative assistant responded that they had children with the last name Black. They spent all their money on their children; they believed utterly in Britney's future stardom. Later, the story everyone told was of a family that could barely feed itself, but they were not poor. They were messy. They lived in a solid home with long front windows and a big yard … An astonishing number of women [said] … that after supporting the Free Britney movement, they had regretfully unfollowed her; her posts had become uncomfortable to watch. She seemed unwell. Missing was the control that had turned her into someone we thought we knew: Britney's unparalleled command of her body, her mastery of self-presentation, that sense that she could become precisely the person she wanted us to see. The connection had been ruptured. The It was gone. This was, in public, unsayable, because it seemed to imply a justification for the conservatorship, but of course social-media posts that provoke unwanted feelings do not justify the abridgment of a woman's most basic rights. They merely suggest that one cannot be returned to the status of a child for 13 years, placed under the dictatorial control of a damaged man, and emerge unchanged."
+ Recently purchased: J. Crew Cable-Knit Cardigan, Lauren Ralph Lauren Plaid Wool Blend Cape Coat, Lauren Ralph Lauren Houndstooth Print Corduroy Collar Quilted Jacket, Banana Republic Asti Shrug & Tank Set, Free People Casey Rib Tunic Sweater, Everlane The Cashmere Boxy Crew, Sarto by Franco Sarto Flexa Comfort Leather Bootie, and Gap Oversized Wool-Blend Shirt Jacket.
Have a good week, everyone!