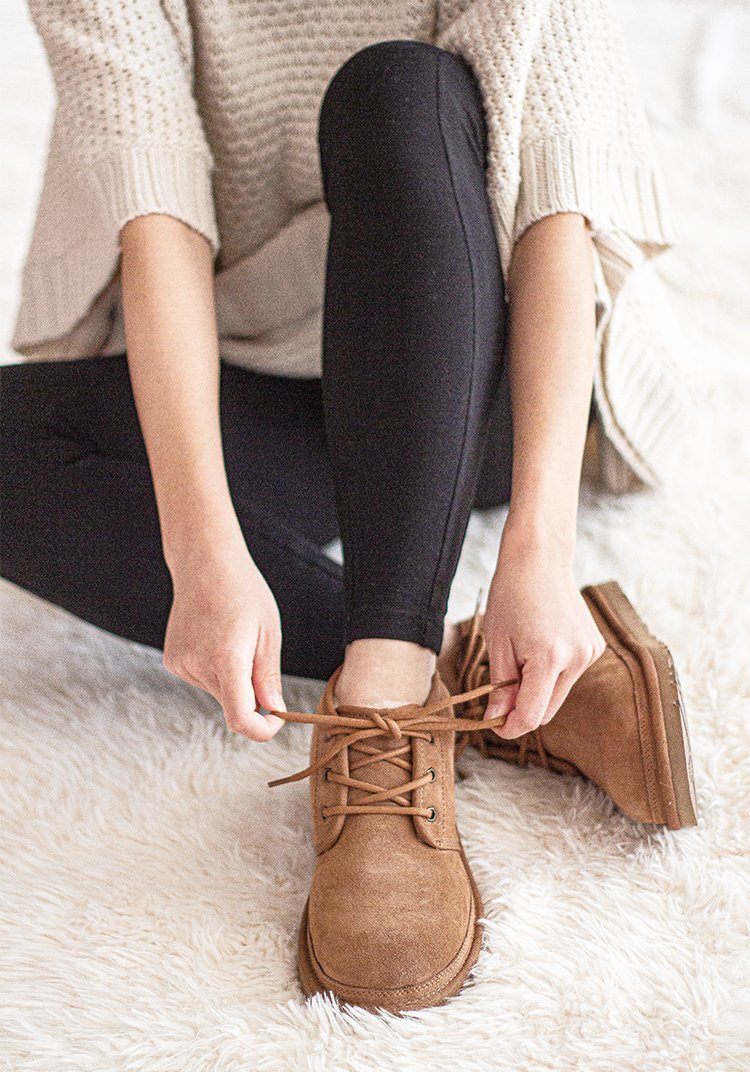 I bought the UGG Neumel Boot for my dad several years ago, and recall admiring how un-UGG-like they were. I can't remember if UGG made the style for women back then, but I recently ordered a pair for myself, as I have started to wear out the Wooly Hobe (RIP) that I like so much, and am in need of shearling-lined casual footwear that don't look like slippers.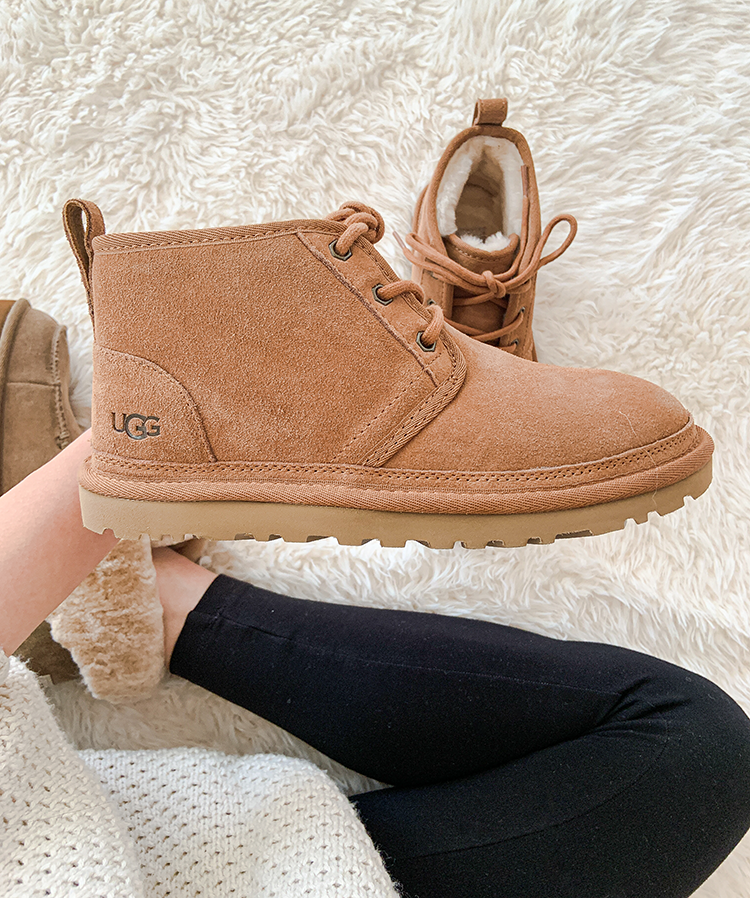 CONSTRUCTION & FIT
The Neumel Chukka Boot has a suede upper and wool lining (specifically 17mm–or roughly 2/3″–of a material called UGGpure, which is repurposed wool with a textile backing), so is designed for dry but cold conditions. It will not allow you to walk around without consideration for mud or slush or puddles, so is best reserved for indoor activities.
In terms of fit, the Neumel Boot is only available in whole sizes, and runs mostly true to size: for those who wear 1/2 sizes, order the next size up if you have wide feet; otherwise, order the next size down. The $129.95/$130 price tag is hefty, but in line with other UGG styles; I have seen the style on sale in seasonal colors, but discounts on neutral shades are harder to find.
POTENTIAL DRAWBACKS
Some details that you should consider: the Neumel has insulation (the aforementioned UGGpure) but no removable insole, so this shoe is probably not the best option for those with a need for orthotics. And while the Neumel is (almost) as comfortable as slippers, it has functional laces and a ~4″ shaft height, so is not a slip-on shoe.
ALSO CONSIDER
The Neumel Boot is perhaps not the most comfortable or convenient UGG option there is (it has stiff competition). If you don't mind casual shoes that might be mistaken for slippers, the UGG® Ultra Mini Classic Boots (reviewed here) and UGG Diara Genuine Shearling Bootie (which I'll review soon) are both exceptionally comfortable alternatives.
Buy the UGG Neumel Boot at Amazon, Backcountry, Bloomingdale's, Dillard's, Journeys, Macy's, Neiman Marcus, Nordstrom, UGG (available in a dizzying eight colorways), Urban Outfitters, Walmart, Victoria's Secret, and Zappos.