The We Step Up Bag was first introduced in House of Want's fall/holiday 2020 collection, and shortly after started appearing in my social media feed, just as I was warming up to the idea of padded bags. It's heavily inspired by the Bottega Veneta Padded Cassette Bag, but infused with elements from the Chanel classic flap. As a designer chimera with an affordable price tag, the We Step Up is a fine way to test out the padded bag trend.
This bag is now on sale at Shopbop in the colorway "Beige" (shown in this post), and can also be found discounted at Bloomingdale's, Nordstrom Rack, and Dillard's. If you are interested, read on for the full review.
DETAILS AND CONSTRUCTION
The "vegan" leather used is acceptable; it would be unreasonable to expect the suppleness of lambskin at this price point, but definitely temper your expectations here. I do think the hardware can be improved on: the chain link strap has a tawdry quality to it. And the push lock closure is a little clunky to use, and is made worse by the padded leather. The construction is otherwise free of other major issues.
SIZE
At 11″ W x 8″ H x 3″ D, the We Step Up is not exactly a small bag. But the padded material accounts for about 1/3 of that footprint, so the actual interior capacity is rather limited. The bag is further divided into three compartments, so bulkier items like a water bottle will not fit (easily).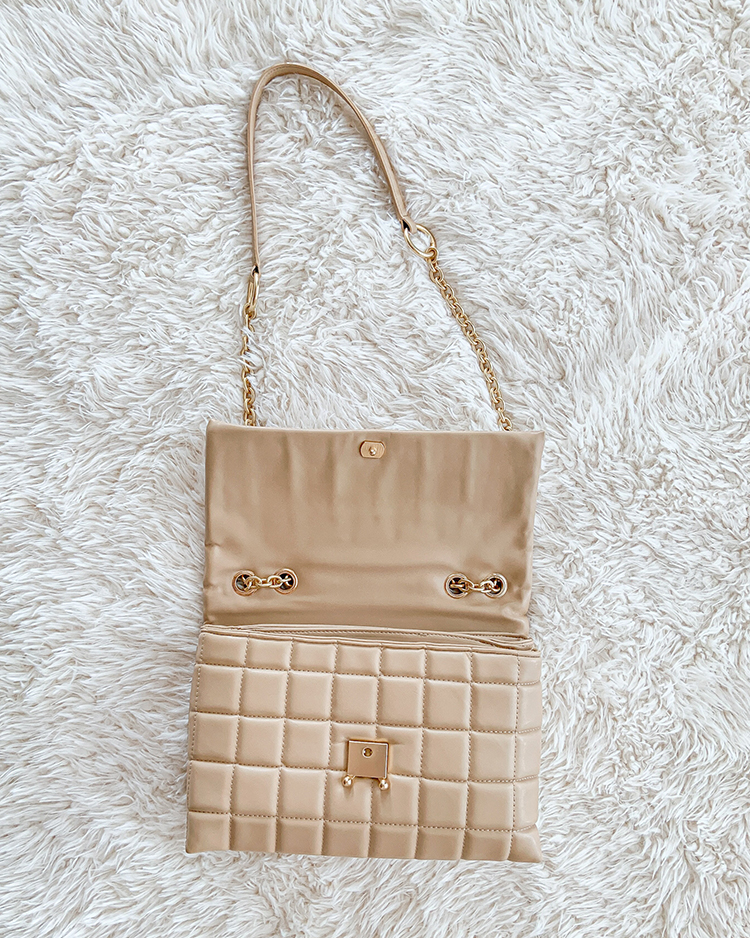 PRICE
The $98 price tag is already affordable, but you can count on at least a 15-25% discount during holidays sales, or during store-wide events at Shopbop or Bloomingdale's.
Buy the House of Want We Step Up Vegan Leather Shoulder Bag at Bloomingdale's, Dillard's, Nordstrom, Nordstrom Rack, Shopbop, and Urban Outfitters.