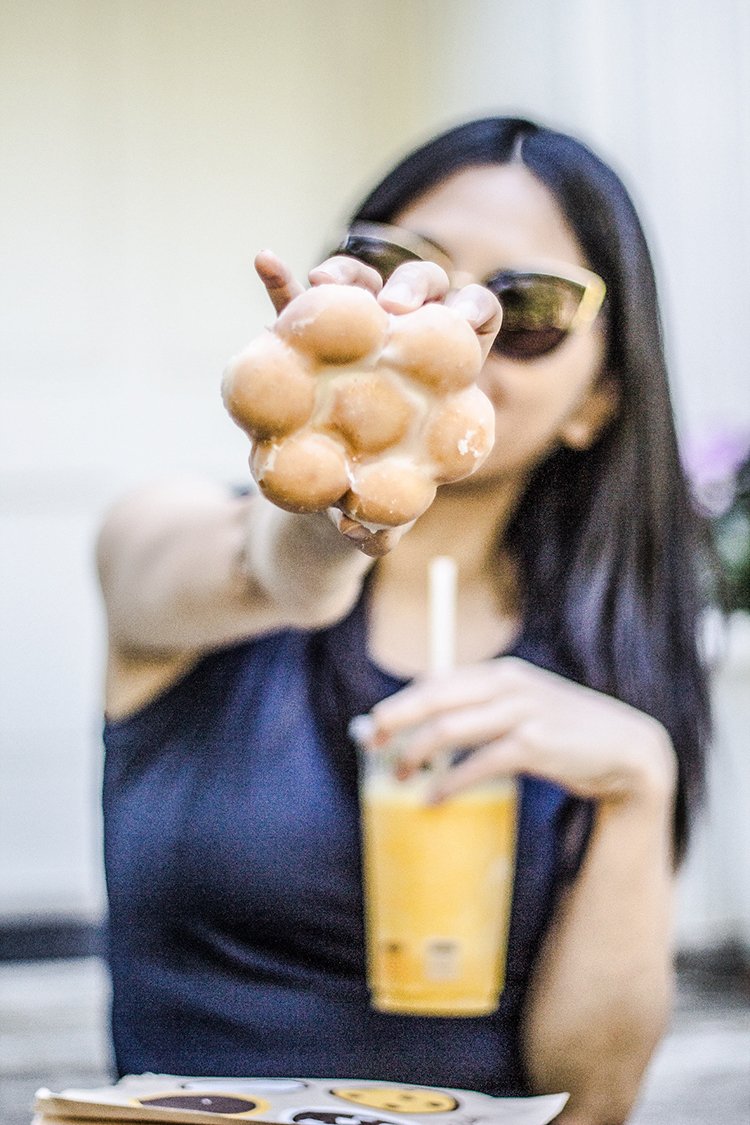 ♥ McDonald's Is Going Up Against Dunkin' with New Pull-Apart Donuts (Thrillist): "The donut can be torn apart into bite-size donut holes. It's all coated in a sweet glaze and looks like it probably tastes nice with a coffee."
♥ Can Shein Clean Up Its Image? (The Business of Fashion): "Shein … overtook Amazon as the top shopping app on US app stores, and controls almost 30 percent of the American fast fashion market … Shein's growing influence has also played an outsized role in the shifting power dynamics within the fashion world, in which nearly all factions of the industry are subsumed under fast fashion's supply chain speed and social media algorithms."
♥ Venice Film Festival: How Does Kristen Stewart Play Princess Diana? (The New York Times): "… something fascinating happens when Stewart dons those tweed jackets. Because they aren't a natural fit for her, she wears them more provocatively: Sometimes they're slung over her shoulders with the casual cool of a leather jacket, or they're fastened only at the top with nothing on underneath. Instead of becoming the classic ideal of a Chanel woman, Stewart wrests that ideal toward her, and the distance that remains between those two extremes is the thing that catches and keeps your eye."
♥ Brandy Melville Employees Describe Racism, Hitler Memes, and Sexual Exploitation at the 'Evil' Cult Teen Brand (Business Insider): "Every day, girls who work at the fast-fashion stores are required to send a full-body photo to executives … If Marsan thinks a girl is too heavy or unattractive, he demands that she be fired … Top executives are sent photos of all candidates for retail positions before hiring them … Insider viewed more than 150 screenshots that appear to show Marsan and Brandy Melville's top brass exchanging pornography, photos of Hitler, and memes featuring the N-word in a group text … The group chat included more than 30 men, including members of Brandy Melville's senior leadership … Many participants sent photos of naked or topless women … Holocaust and Nazi references appeared frequently. Hitler was mentioned 24 times in the more than 150 screenshots Insider viewed … People said that teenage employees as young as 14 would frequently undress in front of male executives to try on new clothing for them … Technically, Brandy Melville is a brand, not a business. The trademark is owned by YYGM … Every Brandy Melville store in the US is owned by a different independent company. All 34 are named a variation of Bastiat, after the libertarian economist … The structure adds layers of confusion for anyone pursuing legal action against Brandy Melville … Clothing designs are often directly copied from other brands or artists, according to several former employees … Sometimes Marsan or another executive would literally buy an employee's outfit off her body, replicate the design, and name the new product after the staffer."
♥ Why Does Playing Tennis Make So Many Pros Miserable? (The New York Times): "Careers cut short because of broken minds rather than aging bodies haunt tennis like ghosts … Tennis players and coaches speak of the singular form of intensity and loneliness that accompanies the game."
♥ Can Department Stores Win Over Gen-Z? (The Business of Fashion): "… competing with players like Shein, which routinely drops thousands of new, inexpensive items per day, is a difficult game. It's unclear if younger consumers actually look to stores like Macy's or Nordstrom to discover brands, and the promise of higher quality only is likely not enough to wean them off fast fashion's low prices and speedy delivery."
♥ How to Dress for an Impossible Work Year: 4 Women on Their Fall Fashion Strategies (The Wall Street Journal): "… back-to-work shopping is less of a refresh than a reclamation, with women gravitating toward clothes that combine fashion cred with comfort and practicality … dressing for work now means embracing a freer silhouette."
♥ Sale styles are an extra 30% off at Madewell, including the Chelsea Rain Boot seen above, with code CHEERS, until 09/07/2021. My picks:

♥ Can Progressives Be Convinced That Genetics Matters? (The New Yorker): "In the past few years … new molecular techniques have begun to shore up the basic finding that our personal trajectories owe a considerable debt to our genes … Harden understands herself to be waging a two-front campaign. On her left are those inclined to insist that genes don't really matter; on her right are those who suspect that genes are, in fact, the only things that matter. The history of behavior genetics is the story of each generation's attempt to chart a middle course … Harden thinks that the conversation about behavior genetics will continue to go in circles as long as we preserve the facile distinction between immutable genetic causes and malleable environmental ones. We would be better off if we accepted that everything is woven of long causal chains from genes through culture to personhood, and that the more we understand about them the more effective our interventions might be."
♥ Why Wilson Is Betting on Fashion (The Business of Fashion): "Wilson Sporting Goods Co., best known as a sports equipment company that manufactures products like basketballs and tennis rackets, is hoping it can make the transition into fashion too, in an attempt to build buzz and renew the brand's relevance … the company only introduced sportswear in May 2021 … In January, Wilson launched an official, unified Instagram account filled with photos of models in crop tops and basketball shorts shown on city streets or at coffee shops. It was a shift from the brand's previous social strategy of operating sport-specific accounts for its tennis or basketball businesses, focused on photos of professional athletes. It's also embracing a direct-to-consumer selling model."
♥ In the Kitchens of the Rich, Things Are Not as They Seem (The New York Times): "Many things that are immediately identifiable as things in the majority of American kitchens … are, in the homes of the wealthy, increasingly being transmogrified into cabinets."
♥ Ben Dugan Works for CVS. His Job Is Battling a $45 Billion Crime Spree. (The Wall Street Journal): "Retailers are spending millions a year to battle organized crime rings that steal from their stores in bulk and then peddle the goods online, often on Amazon.com Inc.'s retail platform … It is a menace that has been supercharged by the pandemic and the rapid growth of online commerce that has accompanied it … organized retail theft accounts for around $45 billion in annual losses for retailers these days, up from $30 billion a decade ago. At CVS, reported thefts have ballooned 30% since the pandemic began."
♥ Warby Parker, Allbirds and Why DTC Brands Still Can't Scale Profitably (The Business of Fashion): "Allbirds reported net losses of $14.5 million in 2019 and $25.9 million in 2020, on an annual revenue of $193.7 million and $219.3 million respectively … Allbirds reported net losses of $14.5 million in 2019 and $25.9 million in 2020, on an annual revenue of $193.7 million and $219.3 million respectively … Still, brands like Warby Parker and Allbirds have a feel-good aura with consumers, and that may carry over to investors."
♥ The Justices Are Telling Us What They Think About Roe v. Wade (The Atlantic): "The Supreme Court may want to reverse Roe, but it is afraid of what will happen when the decision is gone. This fear makes it attractive to hem and haw, to deny and obfuscate. Clarence Thomas may not miss a chance to denounce Roe, but his colleagues are less keen to do so. The justices will be disappointed to learn that they are not fooling anyone. People in Texas have a clear idea of what is going on—abortion clinics are already refusing to perform most abortions, and people seeking to help loved ones find a doctor out of state or order pills on the internet will wonder if they will face a lawsuit. Red-state lawmakers have heard the message loud and clear. They will pass laws like Texas's unless they don't see the need to bother. And that might already be the case: There is little reason to do an end run around Roe if the Court seems ready to reverse it."
♥ How the Supreme Court Quietly Undercut Roe v. Wade (The New York Times): "What distinguishes the Texas law from bans that courts have blocked everywhere else is that, instead of making abortion a crime prosecutable by the government, it lets any citizen sue anyone whom they accuse of 'aiding or abetting' an abortion after the cutoff point … Already, the law has functionally shut down abortion in Texas … Legal experts said the novelty of Texas' argument made it especially remarkable that the court had used the shadow docket to address it, and that it had initially let the law take effect by doing nothing … The court could officially overturn Roe as soon as next spring, when it will rule on the constitutionality of a Mississippi law that bans abortions after 15 weeks — a case, Dobbs v. Jackson Women's Health Organization, that directly challenges Roe without the procedural twists of Texas' ban."
♥ Recently purchased: Sézane Bruce Sweat-Shirt, Uniqlo Sweat Hoodie Dress, J. Crew Tie-waist Cardigan Dress in Wool-Cashmere, Free People Downtown Girl Tunic, Adidias Essentials Fleece Hoodie, and Adidas PureBoost 21 Primegreen Running Shoe.
Enjoy the rest of your week, everyone!