The outdoor photos were taken in 2018! But I wore this outfit–well, with a different pair of white sneakers–the other day for curbside grocery pickup. The photos of the Ottoman Sweater were taken a few weeks ago.
What have you been wearing? I recently exited (yet) a(nother) sad-dressing phase where, if I didn't have to video conference, I would skulk around all day in the same college sweatshirt, which made me feel… decidedly not great.
One step I took to combat my sartorial rut is to set out my favorite sweaters in plain view, like a buffet (RIP), so they feel as accessible as the sweatshirts that I molted and littered about. And this simple life hack set in motion a series of minor changes that culminated in my trading oversized sweatpants for silk joggers and printed treggings.
While there is no functional difference between head-to-toe sweats and chunky-sweaters-and-silk-joggers, the latter feels more luxurious and put-together, which makes me sit up a little straighter and focus a little better. I consider this a win.
The oversized sweater seen above is only available in limited sizes now, so I thought I'd take this opportunity to review another Free People sweater tunic that I love: the Ottoman Slouchy Tunic Sweater.
The Free People Ottoman Slouchy Tunic Sweater, a Free People bestseller, is one of my favorite "wear-anytime" pieces. It's easy for oversized styles to overwhelm, and for slouchy cuts to look sloppy, but the Ottoman Tunic manages to avoid both.
I wear this tunic almost exclusively with the Uniqlo HEATTECH Ultra Stretch Leggings Pant (reviewed here) or with leggings. In the Before Times, it also paired perfectly with faux leather pants, and sneakers (brunch) or pumps (work).
FIT The fit is oversized, so size down if you prefer a closer fit. Sizes run XS-XL.
For those who are about my size, I wear a size XS in this style. But the sizing is all over the map, though. In the same size (just different colorways), the overall length and the mock neck opening can differ by several inches.
MATERIAL The heavier weight ribbed-knit, a cotton blend (2% Spandex/26% Nylon/72% Cotton), provides the tunic structure (evidenced by the standing mock neck). It's hardly buttery-soft, but is without a hint of itch. To prevent pilling, hand wash in cold water.
PRICE $148. The Ottoman Slouchy Tunic is an evergreen style so doesn't get significantly discounted at the end of winter. Free People does participate in store-wide promotions, like the Shopbop Buy More, Save More, or the Bloomingdale's F&F, so you don't have to pay full-price for it.
It's currently 30% off at Zappos and 40% off at Dillard's in Black and Cream.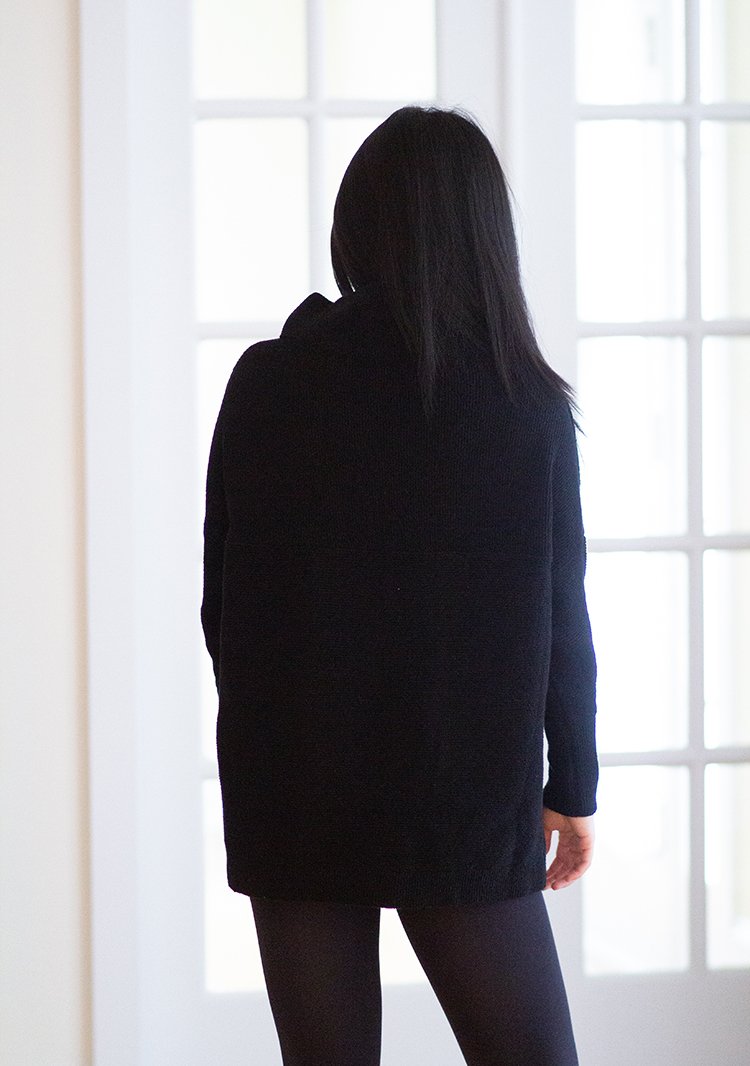 You can find the Free People Ottoman Slouchy Tunic at Free People, Nordstrom, Amazon, Bloomingdale's, Revolve, Shopbop, Saks Fifth Avenue, Nordstrom Rack, Macy's, Belk, eBay, Walmart, Dillard's, and Zappos.