---
Banana Republic's fall/winter collection, which comprises stretchy sweats and smooth knits and relaxed silhouettes, is pleasantly wearable for a stay-at-home lifestyle. So I placed several orders last year, with mixed results. Here are some styles I tried on.
---
Fit: Cropped length, and runs slightly small for a "relaxed" fit
Material: The material, a cotton-blend (58% cotton, 42% polyester), is on the thin side but isn't sheer or scratchy.
At-A-Glance: The crop fit of this sweater hoodie pairs nicely with mid-rise and high-rise bottoms. But I wasn't the biggest fan of the material, which feels as though it might pill easily. But it is an excellent layering piece (see it styled with the reversible shirt jacket below).
Status: Returned
---
Fit: The low-waist cropped length and full-length sleeves make an unusual combination; and the fit is surprisingly slim for a "relaxed" fit.
Material: A midweight, machine-washable fabric (50% viscose rayon, 27% polyester, 23% nylon).
At-A-Glance: Banana Republic offered two nearly identical "sweater hoodies" this season, and of the two, I preferred this one to the one pictured at the top (the price difference is not pronounced: $110 to $98). The texture is less wooly and the material has a little bit more structure without adding any bulk. Try this sweater hoodie with a blazer for a casual preppy look.
Status: This is a keeper!
---
Fit: True to size
Material: The wool blend is fairly substantial and structured, but does relax after a few washes.
At-A-Glance: I am a fan of the reversible feature (but not because I plan to actually wear the solid-colored side) and the versatile neutral palette, which makes it a safe way to dabble in the shacket trend. I had featured this shirt jacket last month in a "how to wear" so consult that post for styling ideas. This shirt jacket is currently sold out online so, if you are interested, bookmark the page and check for pop backs.
Status: It's a keeper
---
Fit: True to size
Material: Medium-weight cotton blend (87% cotton, 13% polyester)
At-A-Glance: I really like the concept (the face-guard provides an extra layer of protection, but doesn't replace a face mask) and friendly price tag, but I wish it had pockets! (Why doesn't it have pockets?!) The material, a cotton blend, is comfortable to wear and (so far) machine washes like a champ.
Status: Both colors are keepers!
---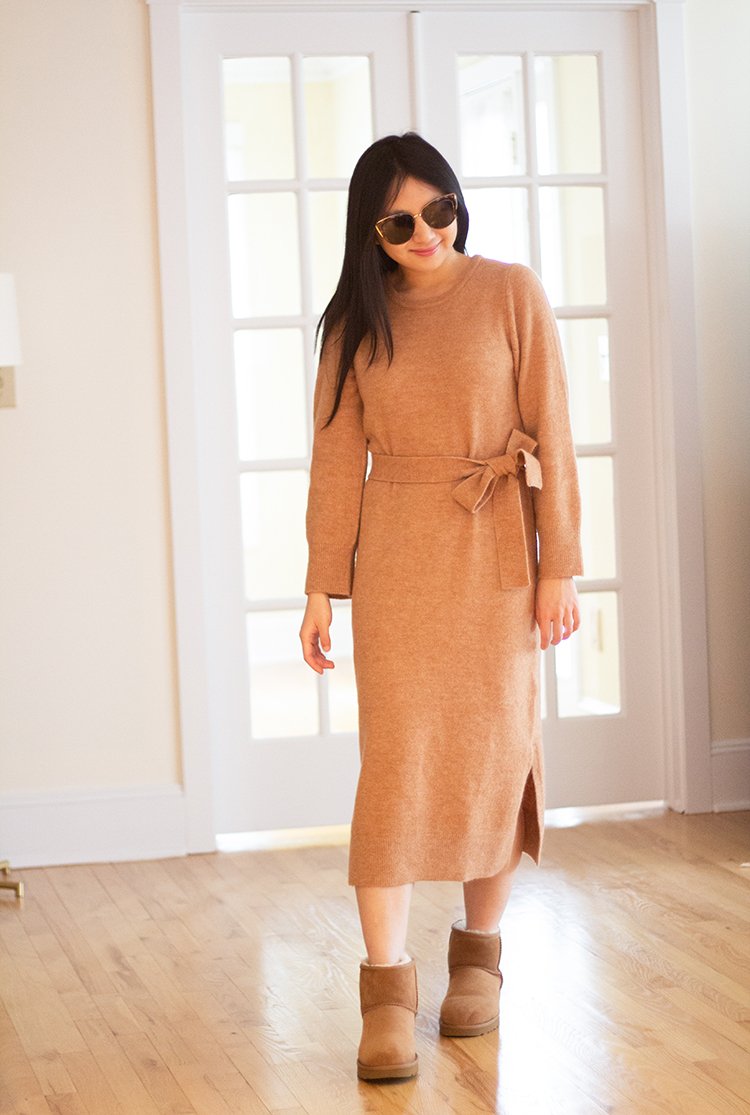 Fit: True to size
Material: A midweight wool blend (36% nylon, 32% polyester, 30% Merino wool, 2% spandex)
At-A-Glance: I liked how warm and soft the material is, but found the self belt awkward. The "column" fit also doesn't suit my straighter shape. But it's a very wearable piece and can stand alone without being outré: the flare sleeves are restrained and the side slits modest.
Status: Returned
---
Sale styles are currently an extra 60% off at Banana Republic (discount taken in cart, no code needed), here are my picks:

Happy shopping!