The days really blurred together this summer, to the point where late August and early September fused into the same month. So instead of forcing a delineation, I decided to share my favorites for these two months in one post.
Chocolate-covered pretzels are one of my favorite snacks, but they border on being singularly sweet. These Snack Factory Pretzel Crisps Milk Chocolate Caramel are a real improvement on the classic chocolate-dipped pretzel, imo: The thin pretzel base has a satisfying crunch and the chocolate and caramel drizzles add the right dose of sweet. I "discovered" these addictive snacks in August and now order them in bulk from Target.
My pollen/dander allergies have been uncontrollable this year so I finally got an air purifier; it came in handy in late summer when I alternated between opening all the windows–which introduced a fair amount of dust and other fine substances into my living space–and blasting the AC–which might have kick up settled particles into the air. I now breathe easily with frequent vacuuming and using the Coway AP-1512HH Mighty Air Purifier, which does its job very well (just look at all the five-star reviews) and rather quietly (choose from four fan speeds).
It only took a year, but I finally got on the knit-bra-and-cardigan twinset bandwagon. I also got into cropped cardigans, which are a blend of the two. One of my favorites (and the one I wore most in late summer) is the Abercrombie & Fitch Puff Sleeve Cropped Cardigan (last seen in this post; now on further sale), which further incorporates puff sleeves.
Not that I have been wearing much any makeup, but I like how "clean" my skin feels after I use the Bioderma Sensibio H2O Micellar Water (the Garnier SkinActive Micellar Cleansing Water is a reasonable alternative) at night. It's technically a makeup remover, but I frequently used micellar water with cotton rounds in place of facial cleansers over the summer.
I eat more instant noodle than is ideal/healthy, but ramyeon is so easy to upgrade (just top with soft boiled eggs and veggies/meats of your choice) and come together so quickly. My favorite this summer was the NongShim Tonkotsu Ramen, which I continue to keep in my cupboards as it imitates–to a reasonable degree–the savoriness of "real" ramen and helps sate my ramen craving (which grows stronger in cold weather).
—————— ANN TAYLOR MIXED STITCH PUFF SLEEVE SWEATER ——————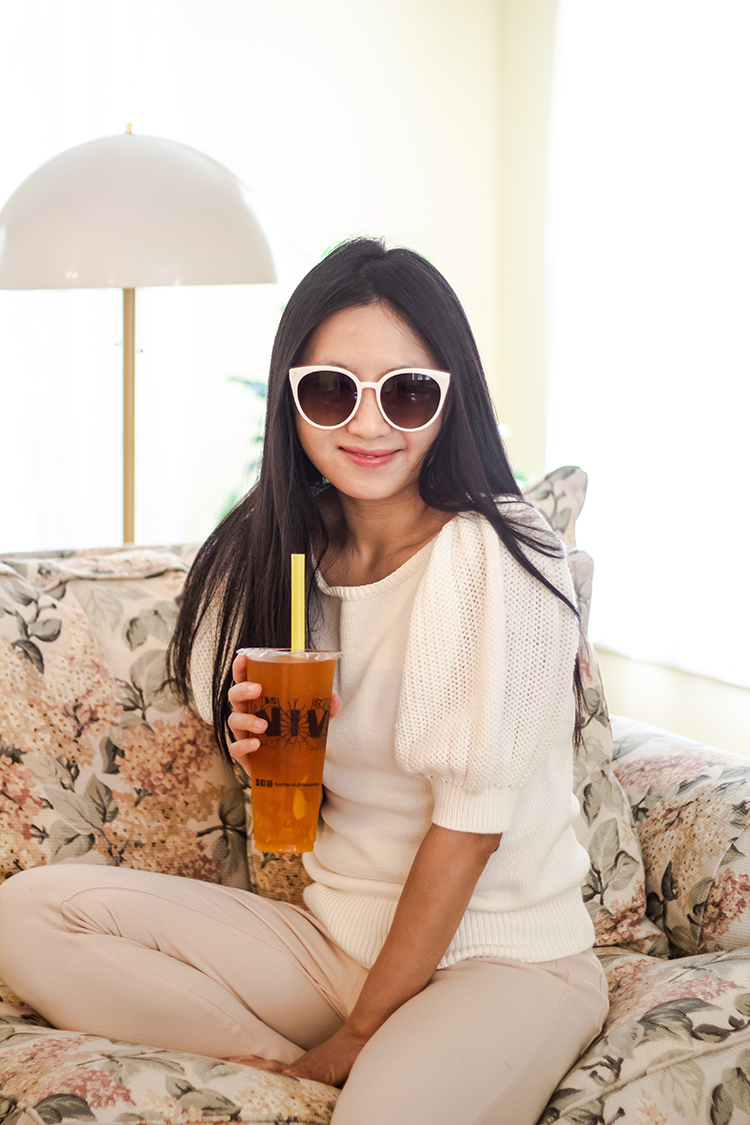 Just about everyone I video-chatted with in August saw me in the Ann Taylor Mixed Stitch Puff Sleeve Sweater (reviewed here; now sold out but here's a similar option from Banana Republic). The puff sleeves are so fun, but don't overwhelm. It's one of those pieces that's almost better on Zoom than irl.
---
Find my other monthly favorites here!