The adidas UltraBoost Running Shoe (now on promotion in the colorway pictured above during the Nordstrom Anniversary Sale–early access for "Icon Status" started today) is one of my favorite athletic shoes; I find them extremely comfortable and fairly lightweight, owing to the Boost™ cushioning and knit sock upper, which gently hugs the feet. The cushioned insole is removable so you can use foot orthotics, making this shoe a potential everyday option if you are on your feet a lot. I own three pairs now (two in different colorways for when I used to run outside, and a pair just for home workouts) but am tempted by even moderate sales to buy more.
PRICE At $180 a pair, the Ultraboost is quite spendy for running shoes, even in comparison to other adidas shoes. Pre-COVID19, "seasonless" colorways like the Core Black seen here rarely went on sale, and when they were occasionally (moderately) discounted, sizes sold out quickly. In the current economic climate, however, 30%+ off sales, even in seasonless colors, have become fairly common.
FIT This style runs slightly wide so I didn't need to size up as I often do for other running shoes (for example, I sometimes order a whole size up in Nike shoes). I normally wear a size 6.5/7 in dress shoes (depending on width), and the Ultraboost in size 7M fit me well with athletic socks.
Buy the adidas UltraBoost Running Shoe at adidas, Nordstrom, Amazon, Bloomingdale's, Finish Line, Backcountry, and Zappos.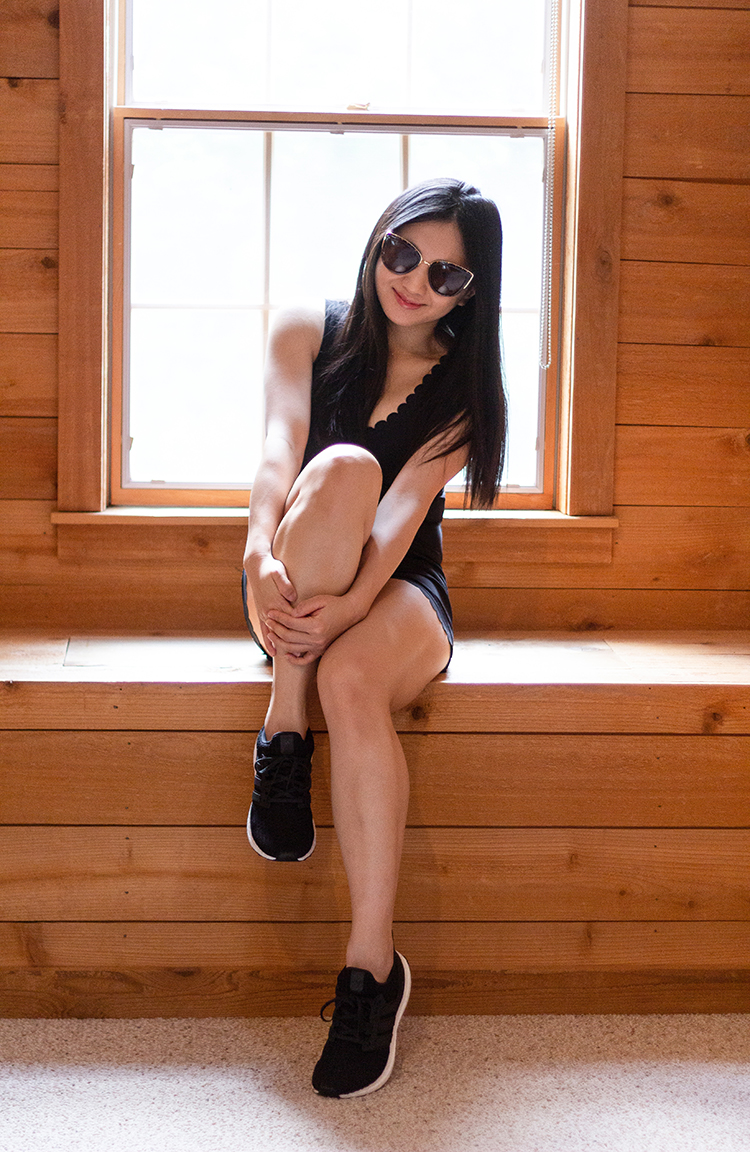 ♥ ♥ ♥ ♥ ♥ ♥
I started to feel unduly fatigued and lethargic about two months into quarantine–likely due to being sedentary and eating a diet that's 75% delivery–and decided to prioritize exercise in an effort to feel more energetic (or just less blah). As someone who used to log 40-60 miles a week road running, I was surprised by how out of shape a few months in quarantine had made me. So, a few weeks ago, I started being more intentional in doing YouTube workouts, and while I can't say that I've lost any weight or inches (I don't own a scale and didn't think to take any "before" measurements), I do feel I've regained some muscle tone as a result (but still like many many years and a much cleaner diet away from having well-defined abs).
An aside: I prefer standalone videos to whole programs because I don't have the discipline to follow through in the kitchen. I also do these fitness videos with the sound muted while I listen to podcasts to catch up on the latter. What I am trying to say is: personalizing the workouts in small ways really help keep me motivated.
I started with Chloe Ting's videos per Mel's recommendation and really enjoyed her workouts. While many of Chloe's videos have sensationalist titles, like "Get Abs in 2 WEEKS" (which is not untrue, because everyone has abs, they are often just not visible abs), I do find the workouts sufficiently challenging and not so intimidating that I am fearful or reluctant to do them again. She also offers free workout programs on her website, but I prefer to just click around and do workouts that suit my mood du jour. Here are some of her videos that I especially like and have added to my playlist: 10 Min Standing Abs Workout, Sexy Back & Abs Workout, Intense Lower Abs Workout, and BEST 10 min Lower Abs Workout Routine.
Another fitness guru I started following is Pamela Reif, whose 10ish-minute workouts really help me work up a sweat. My favorite is the "12 MIN HAPPY SWEAT WORKOUT," which also falls into the "punishing but not impossible" category. And when I feel especially masochistic, I do the "10 MIN SIXPACK WORKOUT," which instantly humbles me.
I also enjoy Raneir Pollard's "45-Minute Tabata Workout to Torch Calories," even though I haven't done it much; he is so delightful, but I am more drawn to "express sessions" as I still feel sluggish most days.
And I am looking for some good yoga videos, so please write me or share your recommendations in the comments below. I have a few "Yoga With Adriene" videos saved per Mel's (from above) recommendations, but want to expand my horizons on this front a bit more.
Here are a few more channels that came highly recommended to me: Fitness Blender, POPSUGAR Fitness, The Body Coach TV, Heather Robertson, Kit Rich, and HASfit.
What are some of your favorite fitness workouts on YouTube?