I plan to share at least one try-on post every other week, and I am hoping that, by broadcasting my intentions here, it will keep me accountable. As many of these purchases were made (much) earlier this year, I will note their availability at the time of publishing.
All styles featured below were keepers.
One (of several) puff-sleeve dress with a square neck that I added to my closet this summer is the Abercrombie & Fitch Puff-Sleeve Linen-Blend Mini Dress. I like this dress so much I plan to buy another (assuming the style gets restocked as sizes have become limited in all colorways). The linen-blend (80% viscose, 20% linen) is lightweight, quite comfortable, and not super wrinkle-prone (I didn't hang this dress properly after its last wash so it looks a little wrinkly in these photos, but the wrinkles fall off easily with a thorough steam). The dress is lined so skin-toned undergarments don't show through.
The dress comes in petite, regular, and tall lengths, but petite sizes sold out quickly online, so I opted for the dress in regular: which is fine hemline-wise, but the shoulders/neckline fit a little loosely, despite being elasticized, so I fidget with the sleeves from time to time. It's not a deal breaker for me, but for those with narrower shoulders, you may want to wait for petite sizes to be restocked. And if I had to nitpick, I don't love the back smocking (which replaces a back or side zipper, and may pose an issue for those who are curvier) which is a bit of an eyesore, but it does give the dress a closer fit in the bodice so I can understand the design decision.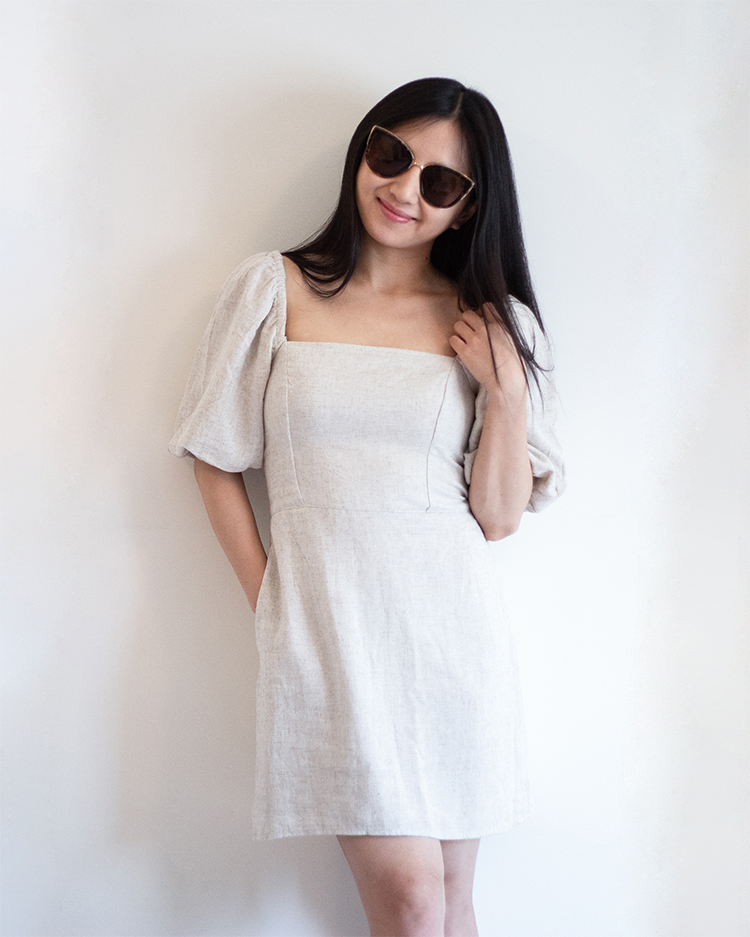 The price ($69) is extremely reasonable (comparable options sell for 2x-3x this amount) and 25% off store-wide promotions have been common.
Some more square neck dresses with puff sleeves:

♥ ♥ ♥ ♥ ♥
This Embroidered Lace Tee was an unexpected favorite: the material (55% cotton, 45% viscose) is lightweight and breezy; the embroidery trim, lace detail, and slightly puff sleeves add visual interest without being busy; and the back ties offer some adjustability in fit. But there are some features that make this top somewhat difficult to style: the open back (limits undergarment options), cropped length (doesn't work well with low-rise bottoms), and the pretty embroidery trim (unsuitable for tucking); but I plan to just wear this top simply, as I did above, with some linen or denim shorts. It's currently on sale (~$20) with most sizes in stock.
♥ ♥ ♥ ♥ ♥
I don't know why I am still ordering jumpsuits because I already own so many, but I love the print of this piece, and that (along with the reasonable sale price) was really why I ended up keeping it. The material (72% polyester, 28% elastane) is extremely stretchy and comfortable, and the tie straps make this a surprisingly petite-friendly option, even in "Regular" length (I am 5'2 and the "Regular" is about full-length on me). Because the style has stretch, those who are an in-between size can size down. This colorway is now sold out online after being marked down, but you might check periodically for popbacks.
Happy shopping!