I had previously ranted about oppressive office air-conditioning, but after a space has been cooled or heated within a few degrees of your preferred temperature, you can likely bridge the gap with layers. I always keep a few oversized wraps and knit blazers in my office, as I am barely an endotherm, and having those at the ready has proven useful.
I especially like J. Crew's collection of sweater-blazers, as I find them affordably-priced and reasonably-made. I now own the Open-Front Sweater Blazer (my favorite of the mix; reviewed here), the Sophie Open-Front Sweater Blazer (reviewed here), and the Juliette Collarless Sweater-Blazer featured in this post (last seen here).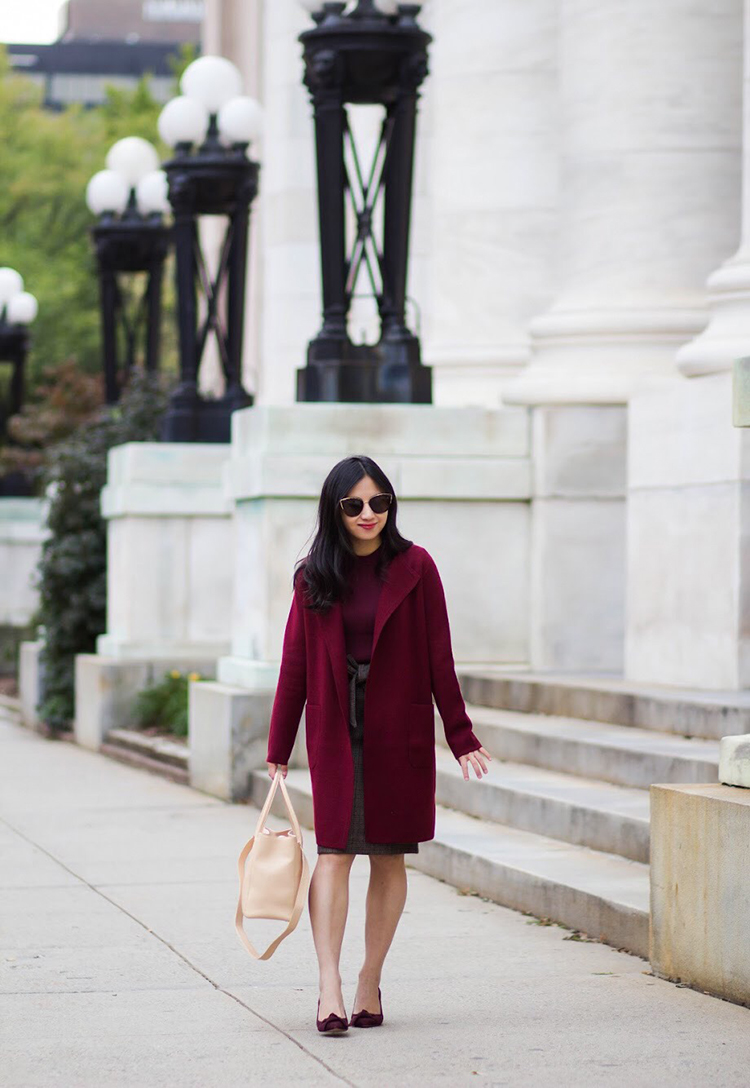 I was initially extremely excited about the Juliette Collarless Sweater-Blazer, as the length made it feel extra cozy, but I have found it more difficult to style than the original Open-Front Sweater Blazer, which works better with a wider range of bottoms. With the longer style, I find that it had an unwelcome truncating effect when worn with culottes or midi skirts. It clearly pairs well with fitted pants, though, and can be styled casually with jeans or for work with wool trousers.
Additionally, unlike the open-front sweater blazer, which is 100% merino wool and knit on (what feels like) a smaller gauge than the other J. Crew sweater blazers, the Juliette collarless sweater blazer is a cotton/polyester/wool blend, which is more lightweight but feels cheaper in material. At the right price, though, I do feel it's a piece worth owning as it opens up additional outfit possibilities.
The Juliette Collarless Sweater-Blazer is considered a perennial style thus has been excluded from nearly all store-wide promotions, but the retail price of $148 is reasonable compared to like styles. Seasonal colors do go on sale, though, and become eligible for additional discounts.
The fit as designed is loose, so if you are petite, consider sizing down as the small difference in length between sizes is meaningful when one is short. The style in size XXS measures 33.5″ in length, and has 23″-long sleeves.
You can find the Juliette Collarless Sweater-Blazer, currently available online in six colorways, here.
---
A sale alert: the Petit Bateau Classic Crew Pullover pictured above (the photos don't do it justice) with a nautical twist is now 75% off in two colorways (I own both) at Shopbop. The quality is very reasonable for the price. It is now final sale, though, so proceed with caution.