Panic-buying outerwear when the 10-day forecast shows below-freezing highs for the foreseeable future is inevitable during the coldest weeks of the year. But I am (more or less) holding myself accountable to the outerwear resolution I set last fall, though, of buying coats that are different in at least two respects from those in my possession.
As I own only a handful of faux fur coats, this desaturated pink option from Free People was an obvious choice. The $148 price tag is reasonable for the workmanship and material, and the coat comes in three striking colors–terracotta (which is, true to its name, a reddish-brown), rose (seen here; a soft pink with yellow undertones), and sky (which has enough red in the color to be considered lavender).
Because of its weight, the coat is fairly warm, but is not wind-proof so I would only recommend it for 50+ degree weather.
My favorite thing about this jacket is that it's super soft, and is as plushy as my 93-inch Costco Plush Bear.
And the style is cut (very) generously, so you can comfortably size down, though I quite enjoy the idea of oversized coats worn with fitted bottoms. I intend to feature this jacket again before the end of winter, but it pairs effortlessly with all styles of bottoms. I can't wait to wear it with culottes in early spring.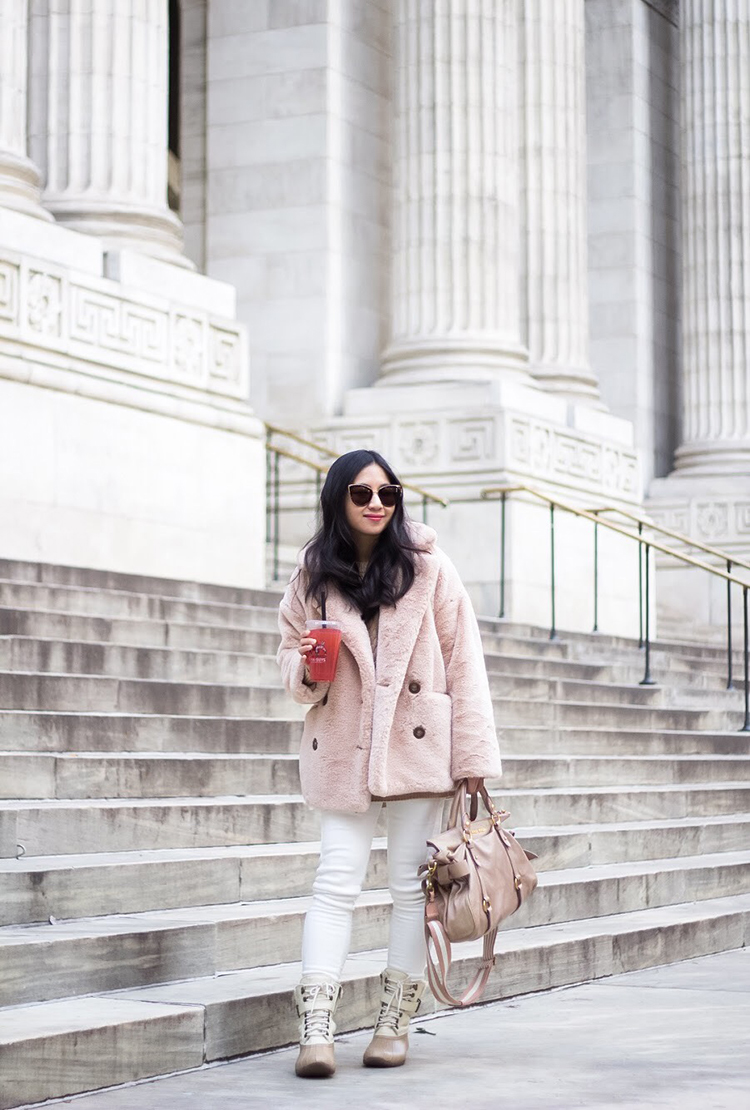 A few more faux fur coats that caught my eye:

Buy the Free People Kate Faux Fur Coat at Nordstrom, Free People, Macy's, Bloomingdale's, Revolve Clothing, and Dillard's.