2018 has been the year of impulsive, frivolous purchases. Because nearly all of my big-ticket purchases didn't pan out, I ended up spending on many smaller, unplanned items.
There are some gems, though, which I highlight below:
Measured by the usual yardsticks of UV-protection and polarization, these Quay sunglasses really can't compete against more premium options, but I like how lightweight and sturdy they are. They've survived being sat on, stepped on, and left (without a case) in a tote with my 7-lb laptop. And when they start to look crooked, I am able to easily bend the bridge to straighten them out.
This J. Crew jumpsuit was my most-worn item of 2018 by far. I packed it for nearly every trip I took this year, and it's my go-to when I am unsure what's appropriate to wear. It's dressy, but not so fancy that it would look out of place in a more casual setting.
It unfortunately is not a perennial style so has been going in and out of stock online after it went on sale. I hope J. Crew recycles it next year in new colors (somewhat unlikely). If you are a little taller than me (5'2), the Amanda Uprichard Iris Jumpsuit is a lookalike that might work for you.
See the J.Crew Drapey Tie-Shoulder Jumpsuit on me here.
Over the summer, I couldn't stop wearing this shell with my many blazers and cardigans. Sure, it has flaws (the material is a smidge too thin), but the covered buttons and scallop detail add just the right amount of visual interest to elevate an outfit. One of those pieces that I wish I had stocked up on.
See the Ann Taylor Scallop Trim Shell on me here.
This dainty, unostentatious ring is perfect for those who accessorize sparingly. Because I can get pretty animated when I speak, having something on my finger to play with (occasionally) calms the wild gesticulations.
Everyone loves this coat. The sweet older lady who shared a stop light with me reached over unexpectedly to touch and admire it. A millennial dad running with his baby in a stroller commented positively when he passed by me. The doughy toddler who beamed approval at me while stroking this coat lovingly at a checkout line, while her mother offloaded a shopping basket onto the conveyor belt. If you don't like attention, stay far far away from this coat.
See the J. Crew Daphne Topcoat in Italian Tweed on me here.
I wore these wide-leg pants at least once a week last summer and can't wait to put them on again come spring. I like these so much I bought them in multiple colorways.
See the Ann Taylor Wide Leg Marina Pant on me here.

I didn't know what I wanted in a striped sweater until I found this one: I like the relaxed fit, which pairs well with skinny jeans, and the slightly longer length, to allow it to be worn as a tunic. If you hurry, your local Zara store may still stock this.
I plan to review these pumps early next month, but don't want them to miss the cut-off for "favorite purchases," because I've had them for many months at this point. Are they a Chanel knockoff? Absolutely. But they are so pretty (and the price point so reasonable for the quality) that I am willing to overlook a few things
This jumpsuit is so fun to wear. The floaty material combined with the wide legs with side slits dance when I move. The print is the rare floral that doesn't age or infantilize. And the row of covered buttons, while difficult to undo, adds a certain je ne sais quoi. It sold out a long time ago, but occasionally pops up on eBay.
See the FP One Angel Wing Jumpsuit on me here.
I honestly can't remember when I first purchased this jacket (because I own several now), but since it didn't make last year's list, I've decided it's earned its place on a list. Simply the best sweater-blazer at its price point–J. Crew has come out with a few iterations of the style, but the all-merino wool version is the one I would recommend.
See the J. Crew Open-Front Sweater-Blazer on me here.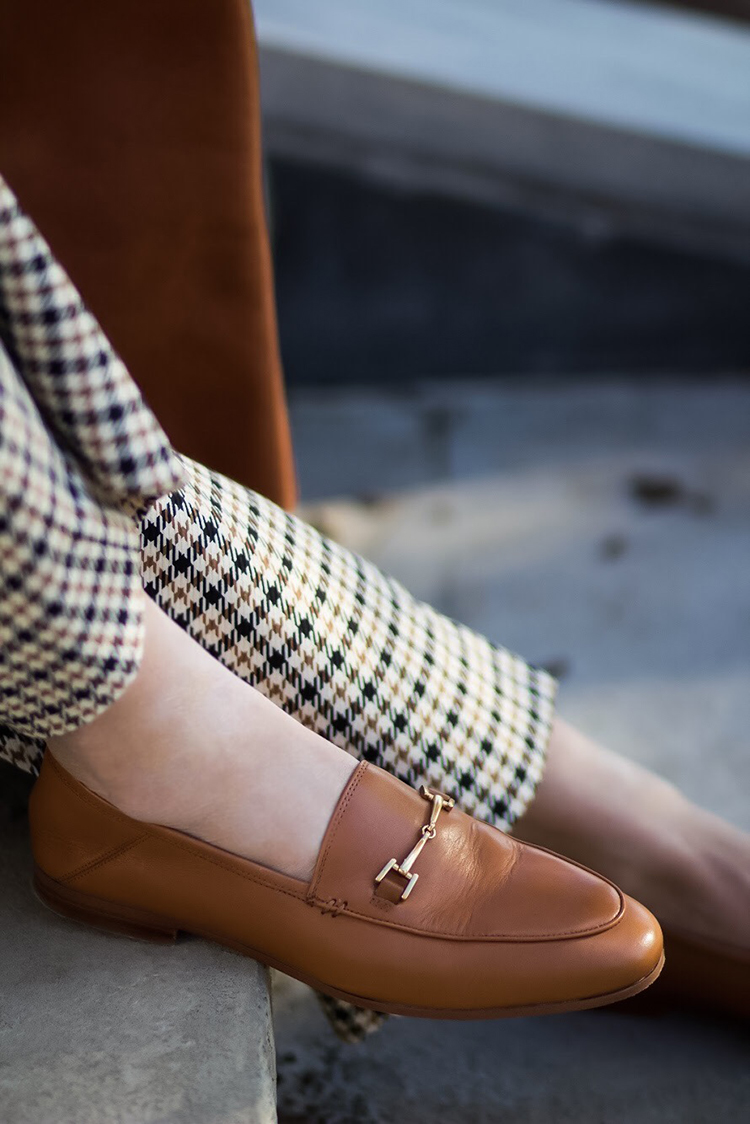 These loafers made the list because I give some weight to practicality and these have proven so wearable this fall. I also own them in "nude" and have my eyes on other colors as well.
See the Sam Edelman Loraine Bit Loafer on me here.
————————————————————————————-
Honorable mentions: Reformation Rou Midi Fit & Flare Dress (reviewed here); Club Monaco Yolande Pant (see on me here); Free People Kate Faux Fur Coat; and Ann Taylor Swiss Dot Ruffle Neck Shell (see on me here).
————————————————————————————-
Do you have a favorite purchase from 2018?