Setting aside the question of "do I need a wool topcoat" (in short: "no, for people who live in places with short periods of mild weather, they are inessential") and jumping straight into the question of "why should I consider the Daphne Topcoat," J. Crew's Daphne Topcoat is an elegant solution for cooling weather that is priced reasonably (with a discount) and comes in a rainbow of colors and in an inclusive size range.
The Daphne Boiled Wool Topcoat debuted at J. Crew in the fall of 2017, and was well-received, if heavily discounted prematurely (the especially brutal winter probably didn't help sales). I picked up the coat last spring in several colors on super sale for family members, but couldn't decide on a color for myself. So when the coat reappeared this season in eight attractive colors, I immediately ordered the "bright red," hoping it would be the statement piece to elevate mundane weekend ensembles.
The coat itself is frills-free: unlined, with notched lapels and a relaxed cut that actually proves rather slimming, decorated with a single row of double-breasted buttons and two side welt pockets. Length-wise, it falls just below mid-thigh, so looks just as great with full-length bottoms as knee-length skirts and dresses.
And fit-wise, even though the style has a slightly more generous cut than tailored J. Crew styles, your normal J. Crew outerwear size will allow for a mid-weight sweater underneath. If you are about my size, the style in size 00P measures 15″ across the shoulders, 18.5″ at the bust, 17.5″ across at the buttons, with 22″ long sleeves and a total length of 36.75″.
The price, $228, can be sweetened with J. Crew's many sales. An acceptable discount of 30% would bring the coat's price below $160, and is reasonable for the quality and style.
Finally, the material: it's hard to tell from looking at my photos, but the mid-weight wool is rather coarse and textured, perhaps even more so than what you'd expect from boiled wool. It is borderline scratchy (especially considering the absence of smooth lining). If you are curious about the style and have a local J. Crew to which an easy return can be made, I would encourage you to try it. Shipping is now free on all orders for J. Crew Rewards members (membership is free).
The Daphne Topcoat is warm enough (if you are especially cold intolerant, add a scarf or a warm base layer) for temperatures in the (mid-to-high)40s to the 60s, but wouldn't be warm enough for temperatures lower than those. It is also not wind resistant.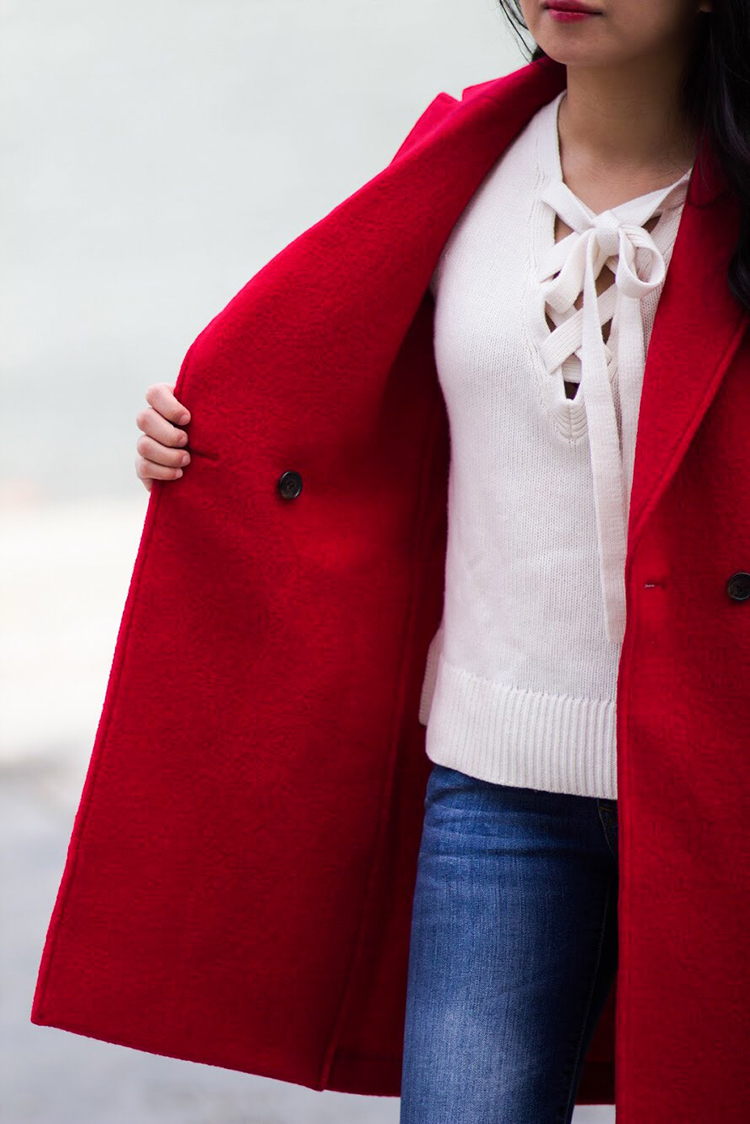 I've mostly been wearing the coat with ankle-length pants, like skinny jeans and somewhat fitted pants, but can see it worn easily with more tailored knee-length skirts and turtleneck sweaters.
I also recently ordered the Daphne Topcoat in Italian Tweed and hope to review it next month; the tweed is a little more substantial in weight compared to the boiled wool, and with a more refined appearance. If the quality compares favorably to last year's version, it will be a keeper for me.
♥ ♥ ♥ ♥
Other J. Crew coats to consider: