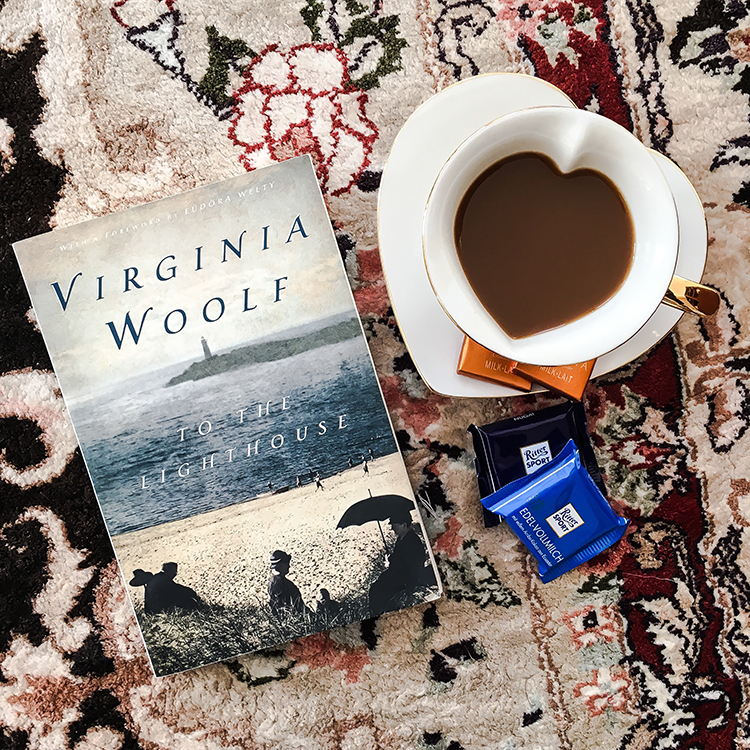 ♥ Tomorrow is National Read a Book Day (which is different from World Book Day and National Book Lovers Day). To "celebrate," I am taking another stab at To the Lighthouse (for the ~zillionth time) because I didn't read it in HS like most of you had (I blame my AP English lit teacher, who was such a Hardy and Joyce enthusiast that I don't think my class read much else) and only started to try to read it in college but kept failing to finish. In any case, there's nothing like a hallmark holiday to motivate me to complete a task that I have majorly struggled with.
♥ Some other books that I have either recently read or am currently reading: Natural Causes: An Epidemic of Wellness, the Certainty of Dying, and Killing Ourselves to Live Longer; The Argonauts; The Glass Castle: A Memoir; and Ready Player One.
♥ (I am a PS fangirl–in a I-pray-I-never-have-to-engage-him sense–so really enjoyed this piece, even if he barely made an appearance in this story.) Paul Singer, Doomsday Investor (The New Yorker): "At a conference in 2016, Singer described his approach as 'buying a bond in a company and being in a multi-year struggle where we say, 'Our bonds are senior to yours.' And they say, 'No, you're not.' And we go back and forth yelling about that for a few years.'"
♥ America's Elite Universities Are Censoring Themselves on China (The New Republic): "Self-censorship is a familiar concept in global business—and especially in Washington's political circles. But academic self-censorship when it comes to China is particularly troubling. The country is America's most important foreign relationship, chief geostrategic concern, largest single trading partner, and only real rival for global political power. U.S. universities and think tanks are among the best sources of information about China, especially because censorship there reduces the utility of Chinese journalists and academics working in the country. Self-censorship within American institutions, therefore, restricts the ability of U.S. policymakers, businesspeople, human rights advocates, and the general public to make smart decisions about how to interact with China."
♥  Casper, Mattress Firm, and the Retail Lifecycle (Racked): "Retail isn't dying, it's being radically transformed … As a true direct-to-consumer brand, Casper should now be focusing on building a store portfolio because retail is the necessary path for growth."
♥ 'We Are All Accumulating Mountains of Things' (The Atlantic): "In 2017, Americans spent $240 billion—twice as much as they'd spent in 2002—on goods like jewelry, watches, books, luggage, and telephones and related communication equipment, according to the Bureau of Economic Analysis, which adjusted those numbers for inflation. Over that time, the population grew just 13 percent. Spending on personal care products also doubled over that time period. Americans spent, on average, $971.87 on clothes last year, buying nearly 66 garments, according to the American Apparel and Footwear Association. That's 20 percent more money than they spent in 2000. The average American bought 7.4 pairs of shoes last year, up from 6.6 pairs in 2000."
♥ Wildfires Got Better Before They Got Worse (Bloomberg): "The number of acres burned each year dropped sharply starting in the 1930s, mainly because firefighting efforts grew more aggressive and successful—so successful that there's now far more fuel available to burn. As the climate has warmed, with average annual temperatures across the West about 2 degrees higher than they were in the 1980s, the average annual acreage burned has crept back up. More than twice as much land has been blasted by wildfires since 2010 than in the 1980s and '90s combined."
♥ Who Pays on a Date? That's Still a Complicated Question (The Wall Street Journal): "In a study of more than 17,000 unmarried heterosexual men and women published in November 2015 in Sage Open, an open-access academic journal, 76% of men said they feel guilty if they don't pay on a date. Yet 64% believed women should contribute to the bill, and nearly half said they would stop dating a woman who never pays."
♥ Can't Afford Health Insurance? Americans Rig Their Own Safety Net (Bloomberg): "The number of people joining so-called health-care sharing ministries—religion-based cost-sharing plans—rose 74 percent from 2014 to 2016."
♥ The Disciplined Pursuit of Less (HBR): "Curiously, and overstating the point in order to make it, success is a catalyst for failure."
♥ The New Intimidation-Free Way to Get a Custom Suit (The Wall Street Journal): "… a new guard of boutiques is rewriting the script on what custom clothing means in America. Although they span red and blue states, can skew preppy or modern, and accommodate fat and thin wallets, what unifies these neo-tailors is a more approachable custom experience. Neither drab nor dusty, their shops look Tumblr-ready with modernist sofas and edited racks. Instead of a gruff, stuck-in-the-80s tailor, youthful experts in slender suits man the tape measures … pricing, often opaque at old-school tailors, is typically outlined transparently on the companies' slick websites. Costs vary from relatively accessible to high-end."
♥ Céline Unveils A New Logo (Vogue): "… the house unveiled the new Céline logo – and the 'É' is missing."
♥ Can Instagram Save Offline Shopping? (The Economist): "Shop design has been getting more imaginative for years … Though online purchasing did cannibalise sales from shops, brands found it difficult to lure customers by digital means alone."
♥ Chanel Shoes, But No Salary: How One Woman Exposed the Scandal of the French Fashion Industry (The Guardian): "'The message is, you don't have to be paid because you are lucky to be there at all. Working in fashion is hyper socially validating, even if you're unpaid. That's an important point for me. Fashion presents itself as something exceptional, a world outside the ordinary … There is a kind of confused denial of the norms of labour conditions. The dream that French fashion, especially, projects is that of a life of effortless luxury – mundane everyday facts of life such as working for a living, or indeed even money, are considered vulgar, taboo, even dirty subjects.'"
♥ How to Email Someone You Haven't Talked to in Forever (HBR): "Taking the perspective of shared responsibility for the lapse in contact, or looking at your outreach as a positive event and a good reason to reestablish a relationship with your contact can be helpful in overcoming the mental hurdle to your initial outreach … Early in the body of your email, you can acknowledge it's been a while since you've been in touch and briefly update them on what you've been doing professionally. This will also help provide useful context for your request."
♥ How Nike and REI Made Experiential Retail a Strategy (Retail Dive): "From a convenience perspective, the company is pushing its mobile app as a catch-all of services for everything from reserving products to loyalty points and product information. Those functions in and of themselves aren't particularly innovative, but Nike is encouraging its customers to use the app at home and in stores. Being able to collect that level of data and insight from loyal consumers could also be incredibly helpful in making sure Nike hits the mark on product selection."
♥ Amazon Isn't Paying Its Electric Bills. You Might Be (Bloomberg): "Over the past two years, Amazon has almost doubled the size of its physical footprint worldwide, to 254 million square feet, including dozens of new data centers with vast fields of servers running 24/7. In at least two states, it's also negotiated with utilities and politicians to stick other people with the bills, piling untold millions of dollars on top of the estimated $1.2 billion in state and municipal tax incentives the company has received over the past decade."
♥ Maybe Just Don't Drink Coffee (Eater): "And there are so, so many ways to screw it up. If you grind the coffee too finely in your no-less-than-two-hundred-dollar burr grinder, or make the water too hot, or let it take too long to brew, it will be bitter, because you will have committed the sin of overextraction according to the gospel of the Brewing Control Chart, having dissolved more than twenty-two percent of the grounds' solubles into your cup. Disgraceful. On the other hand, if your grind setting is too coarse, the water too tepid, or the brew time too short, it will taste sour and vegetal because you underextracted it, and didn't get even eighteen percent of the coffee solubles into your brew. What an idiot, either way. Still, don't be so hard on yourself: As long as the grind is perfectly dialed in, the water correctly heated to the precise temperature, and your drip technique as graceful and measured as the lines of the gooseneck kettle you're pouring water from, everything will turn out just fine."
♥ Spotify, Fix Your Crooked Logo—It's Driving Me Nuts (Gizmodo): "We noticed that people have been complaining on the Interwebs about them not being perfect. We had tried out the golden ratio on them but that made it look even more weird. This version is a little more organic and it's not super perfect, which I think gives it more personality."
♥ Recently purchased: Dress the Population Georgina One-Shoulder Crepe Gown, Madewell Spencer Sweater Coat (a few more sweaters with patch pocket here), Ann Taylor Pochette Satchel, Mackage Mai Wool Jacket (recently received this and it's a keeper! For those my size, size XXS fit well), Tory Burch Robinson Mini Shoulder Bag (also wishlisted some other items from the Tory Burch Robinson line), and J. Crew Juliette Collarless Sweater-Blazer.
Have a great week, everyone!