I made a bad purchase recently. I don't make many of those these days, as I have trained myself to return things that don't work immediately, but this dress… I thought it had potential (for me).
It's one of the "affordable' styles that J. Crew introduced into its lineup that looks close enough to a good basic, but had been poorly value engineered to the point of being unserviceable. The biggest problem is the material: it is so thin that any movement seems to add creases, and unless you button it all the way to the top, the flaps will hang awkwardly as the material doesn't have enough weight to support a casually unbuttoned neckline. The fit is also baggy, so you will need to rely on the waist-ties to add definition and shape. And the lack of side pockets is disappointing, too.
(Also, not that my outfits are all winners, but this one is especially awkward. The wrinkle-prone dress, the too-casual sandals, and the tweed jacket which I thought would help cut down on the monotony combine to create a slightly cringe-y outfit. I have improved on it though: the other day I wore the dress with some wedged espadrilles to lengthen the leg-line, a colorful crossbody bag for visual interest, and buttoned it all the way. The result was much better.)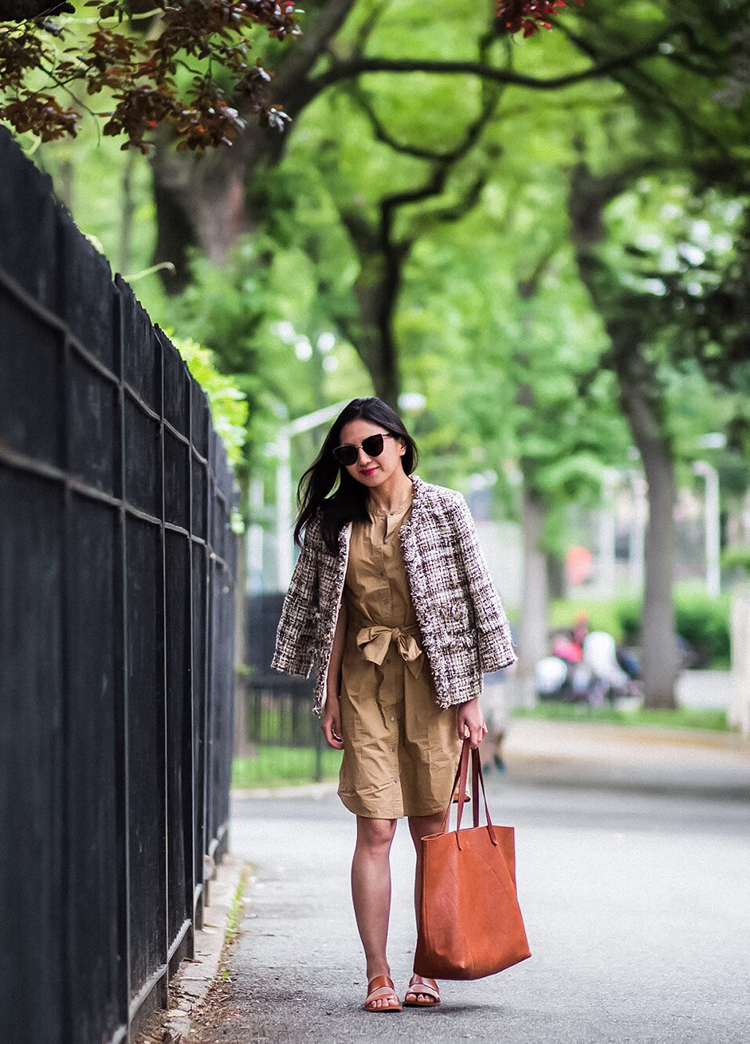 This dress is now on sale, plus an extra 40% off with code BIGGERSALE. The reviews are surprisingly mixed, so maybe your experience with it will differ from mine.
There are plenty of other styles to consider in this sale, and it's one I would encourage you to browse if you are shopping this weekend. The extra 40% off sale will end on Sunday night.
Shoe/bag picks:

Other picks:

In other sale news, fall markdowns at Tory Burch are an extra 30% off with code EXTRA30. Sales are final.

Happy shopping!